Wife Fucks an Old Friend
"Yes, Yes!" As he pumped Her
By: Jim
Being Friday nite with the work week over, my wife and I found we had the evening to our selves. We decided to go to the local topless bar where a friend's sisterinlaw worked. As we got ready to go an old friend pulled into the drive.

Instantly I pictured him fucking my wife. She knew what I was thinking and quietly said no. Our friend was only in town for the nite , and his wife was at home a state away. I didn't want to be rude so I said, "We were just going out to the titty bar for a while, and you're welcome to ride along if you like ,or you can get your stuff into the house and you'll stay here tonight." Well he put his suitcase in the house and got into the back seat. We had a nice evening at the bar.

My wife was enjoying herself, and our friend and I enjoyed watching my wife get several lap dances infront of us. We kept compairing the girls to my wife, who has big tits, a trim body with a very soft belly and a big smoothe cunt. We'd had five or six beers when we decided to head home, and when we got to the car, I asked my wife to ride in back with our friend so he wouldn't feel like a third wheel.

To my surprise she got in back with him not saying a word. The drive back home was almost twenty miles, and was a bit quiet at first. After a few miles, I started to hear the sounds of them making out. I adjusted the rear view mirror and saw my hot wife's blouse open and him mauling her big tits.

He was rough crushing and wringing her big jugs. She liked it though and let him use her tits so hard he made her breath suck in then groan. He was working her over good, and she was turning on too. My cock was oozing pre cum like crazy.

As he was mauling her she looked into the rear view mirror locking her eyes on mine. Her head shook as he roughly dug his hand into her soft belly, while still twisting and pulling one of her big tits. The look in her eyes was blank!

I was so turned on by the way she was letting our friend use her I wanted to see more! She still haden't said more than ten words by the time we got to the house. I went to the kitchen to get us three beers and came back to the living room to find my wife naked lying on the carpet, on her side with our friend laying behind her. I took off my cloths and lay infront of her when she looked at me blankly and a big gush of breath with a groan came from her. He had just ramed his cock into her cunt from the back! He was slow pumping her from behind. I wanted to put my cock in her mouth while she was getting it but she turned her head away. She loves sucking cock and never refuses when the guys shove it in her mouth, so what the heck?

I watched them as he reached around her and crushed and stretched her tits out making her groan in pain-pleasure. Her back was arched pushing her big, now brused jugs out and pushing her ass hard back on our friend. Thats when he told me to dig my fingers deep into her belly and feel his cock pumping inside her. My wife looked me dead in the eyes. I didn't know what to do!

She looked down as I reached over and put my fingers in her soft belly , just below her pumping belly button. Our friend said ,"DO IT! HARD! PUSH IN AS DEEP AS YOU CAN AND FEEL MY COCK IN YOUR WHORE WIFES BELLY!" I looked back at my wifes face as she rocked from his unending pumping. She was already in pain from what he was doing to her tits. Man watching her let him do her body like this had me in a daze. Suddenly she snapped me back," Do what he says Jim, you know you want to she groaned.

You know you want to feel his big cock in me! I know you want to hear me scream and moan,Jim, it's no secret! Your own buddys tell me you want my men to maul me so you can watch and listen and jack off to what they're doing to me! Now you fucking cuck , run your hand in my belly deep and hard, or you'll never cum in me again!" Without waiting, I shoved my fingers into her soft, pumping belly meat till I felt his cock clearly!

She shreaked as her hands flew down and clamped around my wrist. Instead of pushing my hand away, she jerked it into her belly even farther! He was pumping her like a wild man while groaning-gurgling sounds were all she could make. Her own orgasam sent her body into jerking pumping semi cuncious movements that I'll never forget. When it was over our friend pulled out of her and squeezed and twisted her tits once more. She groaned as she looked toward me, then at our friend.

"Fuck him in the mouth. Fuck his cuckold mouth so I can watch!" He smiled at me as I got on my knees. He put his hands on the sides of my head as he fed his big cock in and started pumping more and more into my mouth. My wife had gotten to her feet and moved behind me and was pushing her hot cunt against the back of my head. "Choke the bitch! , she yelled. He let go of my head and was pumping it to me using my wife's cunt for a back stop. He then reached over my head and jerked my wife to him by her big tits and they began kissing.

He was in my throat choking me now and my wife knew it but kept pressing her cunt harder! She broke the kiss and whispered to him, " Cum for me babby, Cum in his mouth! I want to watch him choke on your cum!"

He started pumping harder as I felt his big meat start to pulse and shoot his load into me. I kept sucking as hard as my wife dropped to her knees beside me to watch him unload in my mouth close up .

When his cock floped out she shoved her own mouth down on him till her nose was pushed in his belly while she wrung and squeezed his balls for more cum. When she was finished she got back to her feet straddle my face and pulled me to her cunt. I opened wide and sucked her big slipery cunt entirely into my mouth and tried to suck her guts out till she came! Finally she fell to the floor onto her back, legs spread, big tits rolling around on her rib cage. She was beautifull. I moved between her legs , laid down on her and started to put my cock in her when she rolled me off ! "I havent cum yet!, I begged. She looked at our friend then back at me. "Jim, you started all this. Your buddys tell me everything.

You asked all four of them do BDSM on me so you could watch! It seems that you cant get over the time at the hunting cabin your best friend tied cloths line around my tits till they turned blue. I'm going to give you what you want, but till I tell you differnt ,the only way youll cum is jacking your self off . Now go watch TV while we go to bed, and keep the volume off so you can hear the sounds a real man makes me make! Our friend has been using my wife quite a while now, and I'm still jacking off.

The other nite she had all the guys over and made me sit on the floor while they told her what I said I wanted so see them do to her. After each one told on me, she said ,"Is that true Jim? Is that what you want?" It was a real hard evening to say the least. When it was over she put her arms around me and kissed me. She told me to unbutton her robe and pull it off. I did, and then she laid back on her back and spread her legs. She told the guys to give it to her and do it hard! She said to show me some of the things I'd asked them to do.

Well it was nearly 2.30 AM before they all were done with her, and yes she made me blow everyone of them so she could watch them cum in my mouth. When we got to bed she told me to jack off into her mouth. I unloaded a nites worth of thick hot cum into her mouth. She gulped every bit my bursting cock spurted. Then kissed me and told me I was going to see the things done to her I told my buddys about but, I would have to work fo each thing. So WORK ,Work, Work !
End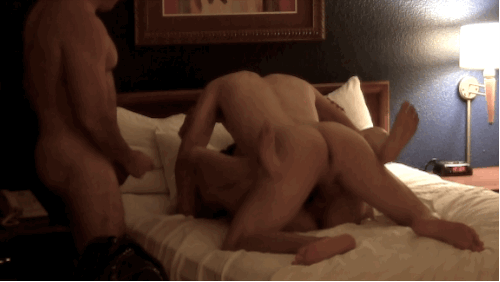 Cuckold Blog
||
Cuckold Story Forum
||
Cuckold Personals
||
Cuckold Chat
||
Truth or Dare Pics
||
Cuckold Pictures
||
Cuckold Ads
||
Nude Amateurs
||
MILF Cams
||