She Contacted an Old Flame
"Yes, Yes!" As he pumped Her
By: Al
After six years of marriage, the most exciting event in our relationship came to pass, and I can't wait for it to happen again.

CJ, my wife, has always been very sexy. All of my friends tell me how hot she is. She is a classic milf - 42, but blonde, blue eyed, 5'6", 115lbs. She's slender, but has nice D-cups, and a super hot ass.

Prior to our relationship, I never knew about cuckolding. Swinging was the nearest lifestyle I'd heard about, but couldn't understand how a guy would be willing, or could even cope with trading his wife for another guy's.

However, my wife began telling me stories of her former boyfriends to try to tease me and make me jealous. She even began to make comments about guys she would see at work and tell me how hot they were, always with a devilish sparkle in her eye hoping to evoke some jealousy in me.

To my surprise I began to find myself curiously turned on whenever she would do this. The thought of her with another guy got me increasingly turned on. I began encouraging her to give me details about her former relationships, or what she might like to do with these guys she would see that made her so hot.

I found it especially appealing when she talked about her interest in what it would be like to fuck a black guy. I really began to enjoy imagining how totally wild and slutty she would get fucking another man.

To cut to the chase, I met my wife about 1000 miles from my home while on business in her town. When she married me, she left all of her friends and family, and since she hadn't seen them in some time, we thought it would be a good time to fly her home to visit her family.

At one point, she mentioned that she had emailed an old flame from her town to mention she was coming home to visit. She said that he did not try to hide the fact that he wanted to hook up with her. I was hard in a second.

From that point on until she departed, I took every opportunity to encourage her to get together with him as much as possible while she was on vacation.

CJ wound up meeting with him twice. The first time, he brought her to a bar and they spent their time together catching up. They did some flirting, but he seemed to control himself on that first visit, not wanting to come on too strong. However, when she said that she needed to leave (she was staying with her mother, and did not want to raise suspicions any further than she likely already had), he clearly was caught off-guard, having assumed that he had more time to get things rolling with her.

When he walked her out to the parking lot, before they got into the truck, he embraced CJ and began to kiss her passionately. He then raised her up and pulled her legs to his sides wrapping them around his waist. She locked her legs around him and they made out while he pulled her ass in to him while they ground their pelvises together.

When he lowered her to her feet, she made a comment about the fact that she had wondered whether he would still find her attractive, and he took her hand and slid it into his pants, where she felt his hot, rock hard cock, which was standing straight up. At this point, they both regretted that the night was ending so prematurely, but she said that they could hopefully pick up where they'd left off before her vacation ended.

On their next date, he took her to a lake and they spent the afternoon on his boat (he obviously wanted to see her in her bikini again). On this date, he wasted no time. He brought along some of her favorite wine to get her in the mood. After she'd had enough to get her nice and flirty, they brought the boat back to shore, he he began making out with her back at his truck.

She was all over him, rubbing her hands all over his body and moaning and panting. He raised CJ up onto his truck seat and laid her back. Then he lowered himself down and kissing down her abdomen he lowered her now sopping wet panties down and off. He commented on how great her pussy smelled and proceeded to bury his face in, eliciting louder, thicker moans from CJ.

After about five minutes of his eager and energetic cunt-lapping, she said, "Fuck me". He said, "huh?" and CJ now more urgently said, "Fuck me!"

He quickly moved up and, while sucking on her beautiful, full breasts, he entered her still-tight, blonde-haired, pink-lipped pussy. She threw her head back with a scream as he thrust his cock in and out. She grabbed his ass and pulled him in with every stroke, slamming his cock into her cunt.

She screamed, "YES, YES!" as he pumped her, and her orgasms began to come in waves. "Cum!" she begged him and within four more strokes, he unloaded his balls into her throbbing, sucking twat.

Fortunately, CJ told me all of the details after each of her two dates. I jerked off while she told me, over the telephone, what had taken place. Now I cannot wait to have her hook up with another guy, hopefully this time a black guy with an enormous cock!
End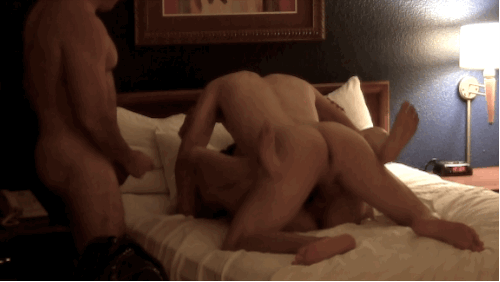 Cuckold Blog
||
Cuckold Story Forum
||
Cuckold Personals
||
Cuckold Chat
||
Truth or Dare Pics
||
Cuckold Pictures
||
Cuckold Ads
||
Nude Amateurs
||
MILF Cams
||