Wife Has Sex with an Older Man
'I'm Fucking your Wife'
By: LadyBi
I love getting my wife to show off her body, and she never complains about me asking to see her pussy - and is always happy to give me a flash - as long as no one else can see. She is also happy to pose naked for pictures for me - and loves to spread her legs wide and open her pussy for the camera, and now with home printing I have a ready supply of pictures of my wife naked. But I wanted her to be seen by other men, and for them to look at her naked body, and drool over her pussy and tits.

I travel a lot for work, particularly in Asia - where often the hotel workers are young men, and so I began leaving pictures of my wife naked with her legs open showing her pussy, in the hotel rooms I stayed. I started by making it look 'accidental', as if the pictures had fallen out of a book or something, but I soon became bolder and just left them openly on the bed or floor, where the room guys had to clear them up. I also began 'accidentally' dropping the pictures out of my bag when traveling in taxis etc. and then letting the taxi drivers look through the pile of pictures. I found this was much better, as I could actually sit there and watch the drivers looking at my naked wife, and could talk to them about how great her pussy was, and how good a fuck she was. Sometimes I'd let the driver keep one or two pictures especially the close up ones of her pussy.

However this just made me even more keen to get her properly naked in front of others. One day I took her to a beach near where we live, which allows nudism. She sometimes goes topless on the public beaches - but had never been to a nudist beach before and was shocked by all the men with their dicks hanging out everywhere. At first she refused to take her bikini bottoms off, but after a little while she relented and finally slipped them down her legs. She laid down but kept her legs together, her little bush just showing above her pussy lips. At last, there was my wife laying completely naked for all to see. My cock was bursting by this point and so I ran off into the sea to hide my stiff dick and watch my wife being looked at by the men walking up and down the beach. After a while she got up and joined me in the sea to cool down.

"When you go back, lie down with your legs open" I told. She didn't reply, but her smile told me my request would be granted. A few minutes later she swam off along the beach a little and then got out of the water so she would have to walk back up the beach naked, in front of all the men. Everyone was watching my sexy young wife stroll naked up the beach. I was busy wanking again.

True to her smile, as she laid down she let her legs fall open. Now anyone walking past would a perfect view of her sweet 24 year old pussy. For a small women (she is only 5'2") her pussy is quite large, her lips are plucked - not shaved - and so are very smooth. Her pussy lips are big and puffy, and the inside lips are also big and so poke through the outer lips all the way up to her clit. Her bush is trimmed - but not too short - and is shaped to a triangle just above her clit.

It wasn't long before the men started slowing as they walked past, or turning back and walking past nearer getting a closer look at her pussy. As she laid there her legs seemed to slowly get wider until her feet were a good four or five feet apart.

One man just stopped in front of her for about 5 minutes, staring at her pussy, until walking off into the sea - I assume to have a wank.

She laid there like that for about half an hour, letting her pussy be viewed by everyone, then got up and came and joined me in the sea. We cuddled and kissed and I slipped my cock into her pussy and fucked it hard. I didn't last long, and soon we were just back to cuddling and floating in the water.

After a little while a man came swimming past. He was about 60, grey hair, but nice friendly smile. "Hi there" he said to me, "you sure have one great wife"

And then turning to my wife said "You have great body, and I thank you for letting us all her have a good view today." I could see my wife was embarrassed, and she cuddled up closer to me, but I could feel my cock beginning to twitch again.

"Thanks" I replied, my mouth dry, "I have been telling her for ages to show body off, but today is the first time." "Wow. I got real lucky then" the guy replied, "but I'd still love to see her even closer. Your pussy is damn fine." He said looking down into the water at my wife's body.

I stared back at the guy, unable to speak, my heart beating hard, my cock now fully erect again.

"I would love to have a closer look", he smiled, "Why don't you float on your back for us, sugar" The guy held his hands out in front of him and motioned for my wife to float between us. My wife turned to look at me, and I nodded and smiled, "It's okay" I said to my wife, "I can hold you up."

My wife then moved around in front of me, and lifted her legs up in the water, and laid back until she was floating on top of the water, me holding her shoulders, and the guy holding her legs.

"Mmm, you have a beautiful body, sugar" he said, his face only inches away from her pussy, "now open your legs a little and let me see that pussy of yours". And with that he slowly opened her legs. I could see his hands moving up my wife's legs, and could feel her breathing become short and fast. He now only had her leg between his face and her pussy, with his hands under her arse holding her up. With a sudden duck, he disappeared under the water, and came back up between my wife's legs. His face was directly in front of her pussy now, and I sure she could feel his breath on her bare lips.

"Wow, that is so good" he said " I love the way your pussy lips stick out like that."

All of a sudden my wife gasped, and her body twitched. I couldn't see from where I was but I guess he had now moved his hand from under her and was touching her pussy.

I was right and seconds later I could see his hand rubbing up and down her lips, and then spreading her lips. I could my wife's body shaking, my cock was as hard as rock. This guy had my wife's legs wide open, and was slowly fingering her pussy. My wife was leaning back, eyes closed, obviously getting off on the fingers now deep inside her. I could hear her softly moaning as he continued to push his fingers deep in her cunt.

Suddenly he grabbed my wife by the hips and pulled her body down and towards him. As she slipped from my grasp, I saw him cuddling her and kissing her neck. I thought he was thanking her for a good time, but then when I saw their bodies moving, I realized he had pull her down with her legs still open, and pushed his cock up her cunt. Was he raping my wife? I wasn't sure, but I knew I had never seen anything so sexy before.

"I'm fucking your wife" he said to me looking over her shoulder. All I could do was reach down and start furiously wanking.

"Fuck me, fuck me" my wife was calling out between her moans. "My cock is in her cunt right now, I'm fucking your wife" he repeated. I came instantly, a long hard come even though this was only just after fucking her myself. The guy came soon after me, but continued to hold my wife in his arms for a few minutes while we all calmed down.

After a few minutes he introduced himself as Stan, and told us he was a widower, and that he loved to come to the beach to see young women naked and imagine fucking them. He told us that when he saw my wife with her legs open, he had never seen such a beautiful pussy, and he was determine to some how get to fuck her. He apologized for the "taking" of my wife, and asked if he could make it us to us with dinner or something.

This was the start of our relationship with Stan. He soon became a regular figure in our life, as he turned my wife into a slut for him and me.
End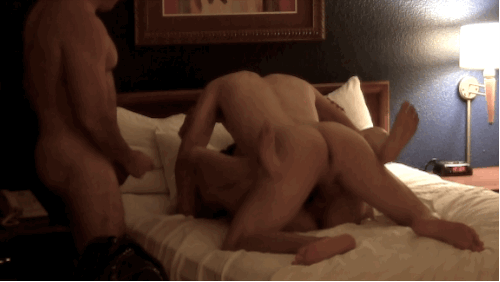 Cuckold Blog
||
Cuckold Story Forum
||
Cuckold Personals
||
Cuckold Chat
||
Truth or Dare Pics
||
Cuckold Pictures
||
Cuckold Ads
||
Nude Amateurs
||
MILF Cams
||