No Sex in Marriage
He Asked for It
By: Katie
Hubby pestered me to fuck some hunk and tell him about it. I decided to look for someone online, and one friday found a nice young man told me how he fancied me. One thing led to another and before I knew it I was in his flat on my knees sucking a rather big cock, around 2" longer than hubby's 6" offering that is only good for one fuck if I'm lucky.

He came in my mouth, which I love, quite soon but stayed semi hard, told me to strip and lay on the bed and climbed straight on board. It felt realy good as he inched his cock up my pussy and he gave me it all which filled me and stretched me a lot more than I was used to. He fucked me slowly and I felt his cock getting harder and bigger which set off my orgasm, which is not usual for me, I normally have to have clittoral stimulation, and he ended up pounding my pussy so hard and shot jet after jet of spunk deep inside me womb.

I'm 48 with 36dd boobs which he was fascinated with, and just kissed and played with them while I recovered, he was only 22 but very well built, and I reached for his now softened cock and stroked and wanked it a little, then I moved down the bed and licked him clean.

He really liked that and started to get hard again, but only partly, but he said when its like this I can still fuck you with it if you want more. I said I had to go as hubby was waitng for me and would be worried, but he just picked up the bedside phone and tell him your going to be late! I called hubby as my young stud was knelt between my legs, easing his cock up my cum filled pussy, and said that I was going to be another hour or so, he asked why, I just said your fantasy has come true, then hung up. My stud was fucking me and getting harder every stroke when he looked at me and asked what hubby's fantasy was?

I told him, and said I hoped he did'nt mind, he laughed and as he rolled me onto all 4's and doggied me, he said that he wanted more and did I want to be his slut? I've read stories of women being called and used as sluts, but as his cock was fucking me with long hard and slow strokes, I felt a tingle as he asked. I think the alcohol and sex had got the better of me because I said I'd love to be his slut, and he started fucking me real hard and reached for my swinging tits as he spunked up my now aching cunt, that sent me shuddering to another climax and we collapsed on his bed, his sperm running down my legs as we cuddled and fell asleep.

I arrived home about 4am and hubby was on the sofa waiting, he smiled and asked if I was ok, I nodded and walked up to bed with him. He helped me undress and then went down on my very sticky pussy, I told him what had happened as he licked me clean. He wanted to fuck me but I told him no, I'd had enough for now, so he just lay beside me and said he was glad I'd enjoyed myself. I told him next week I was to go back to my studs flat with new sexy clothes just for him, but he also said that I may have to please some friends of his if I really wanted to be his slut!!!
End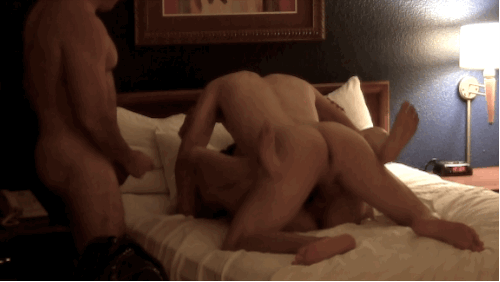 Cuckold Blog
||
Cuckold Story Forum
||
Cuckold Personals
||
Cuckold Chat
||
Truth or Dare Pics
||
Cuckold Pictures
||
Cuckold Ads
||
Nude Amateurs
||
MILF Cams
||