Bareback Sex with Wife
I was my Wife's First Man
By: David
My wife and I married about 8 years ago. I was her first and only man. Some time back we started exploring our fantasies a bit more and after a long discussion about how she wanted to try someone new just to see what it was like, I relented and said she could. I admit I was a bit nervous and unsure about it all but our relationship was very strong so I just agreed to a one off experiment.

The only conditions I put on her fucking someone else is that I would there when she did it and that she had to find someone who would keep quiet after it was done.

She decided on a guy she had known from her university days and set the whole thing up. On the alloted day just before he came over to our house I hid myself in the cupboard so i could watch. I know that sounds a bit silly but I needed a visual on what was happening at all times otherwise I would have gone insane not knowing what they were up to.

Watching from my hiding spot I have to say it was the most exilerating feeling in my whole life. My wife is petite and very pretty and watching this guy slowly taking her clothes off was really exiting. Once they were naked it all become a bit sureal seeing her suck his rather large cock and playing with his balls while he touched her body. Icould not believe I was watching my wife perform like that with another man and I was now powerless to stop it.

As she opended her legs to take him in, I thought my penis would explode. I was so hard and heart was thumping so much I was sure they could hear it.

As he penetrated her I could hardly get my breath. It was truly incredible watching his dick thrusting into her as she lay there moaning with pleasure. I was happy for her to have the experience but admit feeling really jealous that this guy was getting a free fuck and wasn't even using a condom.

Time seemed to go so slowly for a while then she reached what seemed to be a really big orgasm. He quickly followed and as he did I felt both amazingly horny and sort of helpless at the same time. I kept thinking that up until then no-one else had been in her pussy. Now she was full of his cum and there was nothing that could change it.

She quickly got her new beau to leave so I could come out of hiding. After he'd left we lay on the bed and she spread her legs while I watched his cream leaking out. I have to say it was an unbeleivably horny experience for me to see it. So much so I did something I didn't think possible. I took of my clothes and climbed on top her and we had sex. I felt an overwhelming need to fuck her at that time and cum in her pussy as well, almost like claiming back the territory that was mine.

Simce that time she has continued to see this guy and I have to say I'm thrilled. I often come home from work and she tells me that she'd been with him again and it always has the same impact on me. I now wnat her to take another lover and for her to let all three of us empty our cocks into her. But that might have to wait till we find someone really suitable.
End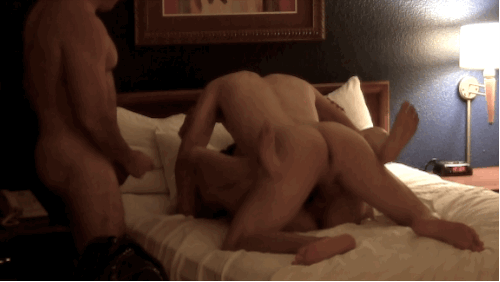 Cuckold Blog
||
Cuckold Story Forum
||
Cuckold Personals
||
Cuckold Chat
||
Truth or Dare Pics
||
Cuckold Pictures
||
Cuckold Ads
||
Nude Amateurs
||
MILF Cams
||