Girlfriend Fucked by Monster Cock
I Cleaned every Drop
By: David
My girlfriend, who is 35 yrs old and I had fantasised about her being fucked by another guy as I watched. We had many a fuck as we talked through every last detail of how it might be. Eventually we took the plunge and advertised on a swinging site. We eventually settled on one guy, who we nicknamed, for good reason, 'monster cock'.

As the day drew closer and we still talked through the details, she told me she wanted to spend a little time with him herself first before I joined them.

Eventually the night arrived, I met monster cock and brought him back to the house. He was seemed like a decent guy, 30 years old, we all chatted for a while, then after about 20 minutes, she just said to monster cock 'come on then let's go upstairs' she looked at me and said 'wait there till you're called'. I felt my stomach flip as they both walked up to the bedroom. She left the door open and as it's quite a small house, I was able to hear much of what went on.

I heard them make small talk for a minute or two, then silence. I could only guess what was happening, after a couple more minutes I heard what I assume was his belt buckle then clothes falling to the floor. I sat there picturing my gorgeous girlfriend with another man. Ten minutes or so later she called to me 'come upstairs now'. I slowly walked up, wondering what I would see. As I stood in the doorway, there they were, monster cock standing by the foot of the bed, naked, my girlfriend on her knees with his huge erect cock in her mouth. She didn't even look at me, her eyes were closed as she sucked and licked on his massive erection, which must have been a good 8" and thick with it. She was naked other than her knickers. I sat on the bed and watched her working on him. He turned to me and just said 'fuck she's good at this'.

After a couple more minutes watching her suck on him, she took it from her mouth and beckoned me over, I did as I was told and went to her, played with her tits for a bit then she made me kneel down and just guided the back of my head onto him. We had talked about this, but oddly enough I just didn't think it would really happen. My head was swimming as I took that huge piece of meat into my mouth and slowly started to suck it.

Fucking hell I thought, how did this happen? I'm on my knees sucking a guy off as my girlfriend watches me, I felt humiliated and dirty, but also strangely excited. He took hold of my head and started to thrust into me, none too gently. He was fucking my mouth hard, pushing that purple knob right against the back of my throat making me gag. Harder and harder he used my mouth for about 4 or 5 minutes until she said to me 'ok, take my knickers off'. I did as I was told, pulled her g-string down over her beautiful arse. She got down on all fours on the edge of the bed, looked back at me and said 'now guide his cock in so I can get fucked'. I did just that, put my hands round the aching cock which I had just been sucking and guided it into her dripping wet cunt. She turned to look at me as he started to push the rest of it inside her, 'you can go now' she said.

What mixed emotions I felt as I left them and walked downstairs again. I heard then bed start to creak as he fucked her, occasional voices as they changed positions, her moans as he pushed that monster right up to the hilt in her. I just sat there listening, knowing she was being well and truly fucked by a stranger.

After 10 minutes or so, again she called to me, I went back up to see her still with her arse in the air and him slamming into her. 'Suck him off again' she said. I slowly dropped to me knees by her arse, he pulled his cock out, glistening from her juices and just slid it into my mouth, I sucked and licked her cunt juice from his hot cock, tasting a little salty pre cum, or did I just imagine that? 'Ok' she said, 'thats enough, fuck me again but this time you stay and watch,' so I sat on the bed as he re entered her and gave her a good hard shagging, as she remained with her arse in the air, but still looking right at me as she took it. 'Tell me before you cum' she said to him.

He fucked her hard for another 10 minutes or so then said he was close to orgasm. She immediately got off the bed, knelt down and took his wet cock in her mouth, sucking and wanking him, it still took another few minutes before he started to moan, she jumped onto the bed, flat on her back, he needed no prompting but just kneeled over her, wanking himself to orgasm, when he finally came he spurted his hot semen all over her face, mouth, neck, even some in her hair. He shhok the last few drips so they fell into her mouth. She was a mess.

She lay there for a second then beckoned me to her, as I went over, she put her arms round me and pulled me down to kiss me. She pushed her salty wet tongue into my mouth, kissing and rubbing her face all over mine. 'Clean me up' she instructed. I did just as I was told, I licked his spunk from her face, lips, neck. It was quite a mind fuck licking another man's sperm from my girlfriend body.

I cleaned every drop from her as well as the sperm from my face, leaving that strong aftertaste in my mouth. In the meantime, monster cock knew he'd played his part and once his erection subsided he got dressed and left.

That was our first cuckold situation, but something tells me it wont be the last.
End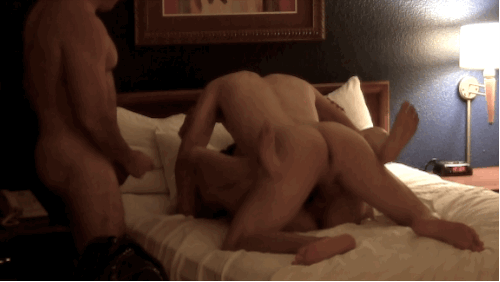 Cuckold Blog
||
Cuckold Story Forum
||
Cuckold Personals
||
Cuckold Chat
||
Truth or Dare Pics
||
Cuckold Pictures
||
Cuckold Ads
||
Nude Amateurs
||
MILF Cams
||