Mixed Race Cuckolding
I Stayed in the Spare Room
By: CWell
I am mixed race ( half Chinese/white), married in May 2007 to an English girl Carol. We honeymooned aboard a cruise liner visiting the Norwegian Fjords. Naturally there were shore excursions, & on one such, our guide was a typically Norwegian looking young man, & a student! Tall, blond n blue eyed, well built, & Carol mentioned he was VERY handsome. We did notice other females in our group were sort of admiring him also! Anyway at one coffee stop, seated outside, he joined us on our small table for the break. We got chatted, & he mentioned that he had been to numerous countries, but surprisingly, never to England, saying that being in the travel industry, he would get concessionarry air fares, but found accommodation difficult & expensive. Carol jumped in, saying, if he wanted, he could stay with us in our London suburb home! Being friendly enough, I echoed her comments, & passed on our e mail address to him! At the end of that excursion, we both reminded him that the offer was on, & we looked foreward to maybe seeing him in London! He DID e mail to say that if it was OK with us, he could visit us in October, at the end of the summer cruise season.

It seemed strange, having been married just 5 months, there was a relative stranger entering our lives, with Carol reminding me just how handsome he was--- a "blond stud" was how she described him! We picked him up at the airport, & as I was paying for the parking & returning the trolley, I was wondering how the ice would be broken--- how me or my new bride would tell him that we would not mind if he were to become my new wife's lover!I needn't have worried! When I returned to the car, was I stunned--- pleasantly so, but with MORE than just a pang of jealousy!. My wife had her head turned towards the rear seat where he was sat, he was leaning forward, & their mouths were sweetly locked together in a long deep French kiss! I sat in the driver's seat, & watched in awe, at this lovely blond head & the lovely brunette brown head of my lovely wife moving lovingly round & round. I HAD to ask them to stop, only as the ticket timing may expire! They did so only reluctantly! On the drive back to our place Anders told us that this was not a unique experience--- he had stayed at an Italian couple's place in Milan where he had cuckolded the Italian husband! Also one time to the States, in New York, where he spent a week with a cuckoldress, with hubby watching! But the best he said was in India, where a VERY rich Indian even PAID for his fare, business class, & where he not only cuckolded the multi millionairre Indian businessman, but he was introduced to 3 othe Indian cucks, all of whose wives he serviced. He wasn't boasting, just matter of fact.My wife told him she was not at all surprised , as he was SO handsome & said MANY women preferred blond men!

On reaching home, we went straight to the bedroom. "This is our marital bed" said my wife, as she knelt before him, & shamelessly undid his flies! She took out his half erect monster, & all it needed was a few cock kisses to FULLY arouse it. Yes, I realised then that men of Oriental descent were perhaps unlucky in that department (& I must have inherited my Chinese genes there). His was a MONSTER, truly HUGE, & my wife reminded me about it! Soon she was sucking away, in total bliss! They were loving it. They then slowly undressed themselves,ignoring my plight. My wife lay down on our marital bed, her feet on the floor, but her legs open for her blond Norwegian guest, soon to be her lover. He entered her, & for a while she stayed still--- then she raised her legs, & she bucked & moved, that MASSIVE tool inside her! "This is bigger that ANYTHING I've had before" she yelled, "MUCH better & bigger than your little one" she humiliated me! What could I do? The obvious! I took out my petei-erection, & began what wife watchers do! Yes, I was masturbating, watching this wonderful all- white couple in hot & dirty sexual performance. I noticed she had multiple orgasms, & I noticed that when he yelled out to announce his own, her lags were high up, around his shoulders, so that his nordic semen could go in as FAR as possible, maybe into her English womb! Norwegian semen, English womb & a half Chinese husband watching!

When they'd finished I was stunned--- she helped him unpack, but ordered me to empty a couple of my drawers, plus make space in my wardrobe! "Why?" I asked--- "So that Anders can put his clothes there--- you can move your things in the next room!" Was I humiliated, but had to do so. Upset, I said, "What next? Next you'll tell me that you want to be bred by this blond giant!" She only smiled, but he joined in, saying that the Italian cuckold wanted him to breed his wife, whish he said he did, & he was sure that he had also impregnated one of the lovely Indian millionairesses he had serviced,impregnated her in front of of her masturbating Indian husband! Now I was to be an ABSOLUTE cuckold, the ultimatee one, a cuck whose wife was to be bred by her lover!

He stayed 10 days, & I stayed in the spare room, hearing their night long love making--- "Breed me darling" I would hear her shout, give me a Norwegian baby, who looks like you--- I need breeding!" She was an absolute slut for him--- her orgasms-- & when he came, he would yell out, making sure I could hear him, & he often saiud, "Take it in your womb, you hot English bitch, have my baby!"

Anyway, I was cuckold--- that was in October, & now she is 3 months pregnant, witrh all the signs of a baby coming on, & she is happy as hell. She often shows me her tummy, teasing me, no TAUNTING me that she is carrying a Viking baby, & that she would look SO SO mush fuller in 6 months' . I daresay everyone will probably know that I'm a cuckold when they see the 3 of us out together unless I convince people that the baby had inherited physically ALL the mothers' genes only--- except my wife would not let that assertion go unchallenged!

I LOVE letters & postings on inter racial ccukoldry, but where the bull, the stud, the impregnator, the breeder, call him WHATEVER, is a DIFFERENT race from the poor cuckold husband!

I know it's early days yet, but already Carol is planning a LARGE family--- with the assistance of that blond stud Anders, him of the Fjords--- him with the HUGE Nordic Knob. Carol is insistent that she will breed MANY children by him!
End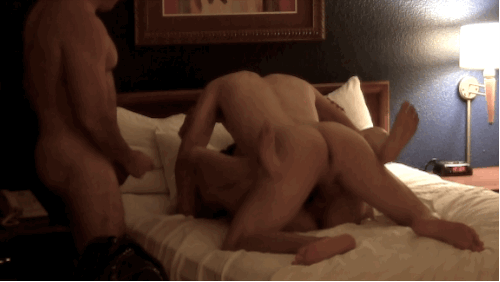 Cuckold Blog
||
Cuckold Story Forum
||
Cuckold Personals
||
Cuckold Chat
||
Truth or Dare Pics
||
Cuckold Pictures
||
Cuckold Ads
||
Nude Amateurs
||
MILF Cams
||