While Husband is Away
Cucked many Times
By: Char
My husband is in the military in is gone for several months at a time. Soon after he left, I took my kids to a park near our home to watch them play. My kid fell, hurt himself, and started crying. So as I went to check on him, a good looking guy came over to help out.

Soon after that we started talking as my kids began playing again. We hit it off and I invited Nick over for dinner. The kids went to bed shortly after dinner which left Nick and I alone. I am a short, petite hispanic girl and Nick was atleast 6ft tall, kind of chunky but attractive. It wasn't long after the kids were asleep that Nick pulled me into his arms and began kissing me. I became so turned on that I hurriedly stripped of my clothes while he did the same.

I was totally impressed when I saw him naked. The size of his cock was at least 9" long and as thick as my arm which greatly dwarfed my husbands tiny penis(doesnt even deserve to be called a cock). He layed me on the kitchen table and fucked me like crazy. I was amazed that I could take that huge cock and he was telling me that he loved my tight pussy. He made sure I came at least 3 times before he filled my pussy with a huge load cum. After that night I invited him to come over everyday for 3 months. He spent everyday and night fucking my pussy until my husband returned home.

My husband returned home and the first night we had sex he commented on how loose my pussy felt. I told him that I was just excited to see him and I was real wet. But the truth was Nick had just finish fucking my pussy and left the house about an hour before he got home. It wasn't long before I could stand not having Nicks cock in me and was worried my kids would tell their dad that someone had come over while he was gone. So I invited Nick over for dinner and told my husband the whole story of what took place while he was gone.

I told him he is going to have to accept me fucking Nick as much as I want or I would leave him and take everything he had. My husband went upstairs to our room upset and I followed him. I told him if he goes along with this I would give him all the sex he could handle, so to my surprise he reluctently agreed. Nick began living with us that night and stayed over on our sofa bed. Later that evening, I went downstairs completely naked and climbed on top of Nick's huge cock.

He pounded my pussy harder than ever that night and came deep in my pussy. I then headed back upstairs to my husband and began sucking his cock. He told me he heard Nick and I having sex and it turned him on. He said that he heard me moaning really loud and my wet pussy being fucked by Nicks cock. I asked him if he wanted to smell my fucked pussy and he said yes. So I made him lay down on his back and I place my pussy inches from his face. He could see now how well my pussy had been fucked and smell the sex on me.

Then he saw Nick's cum starting to ooze out of me, and he ask me if I let him cum in me. I said, "of course" and lowered my pussy down on to his mouth. I told him this is Nick's pussy now to fuck and you get the left overs. He soon started licking my pussy and eating Nicks cum out of me.

After that night, he has been cuckold to many times to count by several other men.
End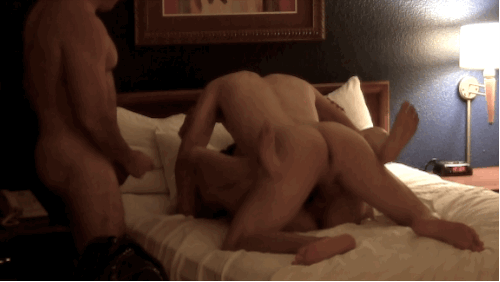 Cuckold Blog
||
Cuckold Story Forum
||
Cuckold Personals
||
Cuckold Chat
||
Truth or Dare Pics
||
Cuckold Pictures
||
Cuckold Ads
||
Nude Amateurs
||
MILF Cams
||