Mature Wife Likes Young Cocks and Men
That Feels Nice!
By: Old Cuck
I'm going to be honest hereI can't remember the details of the first time my wife Connie brought another man into our bed. I can't describe that evening in detail because it was all such a blur to me. I was running the gamut of feelings that night: nervous, excited, jealous, proud, and almost every other emotion. He was a 22-year--ld college student, she was 47 at the time. Suffice it to say he fucked her like she hadn't been fucked in years. It seemed like she was having one continuous orgasmshe must have cum seven or eight times in a couple of hours. Afterward I felt reliefrelief that she enjoyed it and wanted to keep doing it on a regular basis.

Over the years since then she's developed quite a taste for young guys, and it's amazing how much they're attracted to her. She says she likes their staying power and their quick recovery time. And they like, well, I guess there are a lot of young guys out there with older woman fantasies, especially when it's an older woman who still looks as good as Connie does. She's 52 now, looks more like 42, and fucks like 22!

The foreplay is always as big a turn-on to me as the actual fucking. In the early days Connie used to be fully dressed when she met the guy, and wear her sexy lingerie under her clothes. It was fun watching them undress her, but now it's even better, because when we meet them at our home she usually greets them wearing just a little silk robe over her undies. When she finally stands up and takes off the robe their jaws always drop open. She likes to stand right in front of them, hands on her hips, all silk and nylon, and ask her young man, "How do I look?" If you ever saw my big-titted, curvy-assed wife in her come-fuck-me high heels and lingerie, you'd know exactly how they always react. Usually, within a few seconds, their tongues are down each others' throats. It's amazing to see my usually prim and proper wife climbing all over a young guy. And it's really a thrill to see the guy's hands roaming over her voluptuous body. Every guy is usually very quick to undo whatever is holding her breasts in, whether it's a bra or a bustier, and then start sucking those 36Ds like a hungry infant. That's when she starts to moan things like "Ooooh, that feels nice!"which just turns her young man on even more.

She's always seemed to like sucking my cock, so I can only imagine what it's like for her to suck a young dick that stays rock hard the whole time, and lets her suck away with no fear of cumming too soon. When she feels he's about as hard as he can be, she'll ask, "Are you going to fuck me now, sweetie?"which nearly sends me over the edge. Then she might ask him "How do you want me?" or else just lay back and spread her legs wide for himusually glancing at me with a smile. That's a tableau that always makes me rock hard: my wife's smiling face looking right at me, with her legs spread for her waiting lover. Just that simple act of her spreading her legs apart for him is enough to make me crazy with excitement. When he positions himself between her thighs, his stiff young cock pointing straight out, my heart starts pounding like a drum.

Then she reaches for him, puts her hands on his hips, and draws him to her. She always gasps at that first moment of penetration, just a breathy "OH!" The sight of her cunt lips enveloping just the head of his cock, clinging to it like a mouth, is mind-boggling. When he moves forward and I watch that big young cock slowly disappearing into my wife's pussy, and their pubic hairs mesh, it always makes my head spin.

When he starts moving inside her is when she really goes crazy. Very quickly she'll lock her legs over his thighs and start pivoting her hips, trying to get in rhythm with his thrusts. When she does, watch out! It's a thing of beauty to see my wife fucking in perfect harmony with a hard young dick. I get off on the wild creaking of the bed and the beautiful "slap-slap-slap" sound of their torsos slamming together. If I look at her beautiful face for too long at this point I might come right then and there, because it's always twisted in passioneyes closed and mouth open, moaning and gasping for air.

It's easy to tell when she's having her orgasmsthe sounds she makes are incredible. Her moans build, louder and louder until they reach a crescendo, usually ending in a high-pitched little scream. And as long as he keeps pumping herand they almost always doshe'll start over and build up to another one. Sometimes when she's on her third or fourth she'll wail: "Come NOW, sweetie! Come NOWWWW!"

Watching them cumming inside her, as my fellow cucks know, is really the high point of it all. He'll start pumping harder and faster, really slamming her, and some of them will groan or announce it, like"Here it comes, baby!" His ass cheeks will clench and Connie will moan louder or cry out "Oh YES!" or "That's so GOOD!" That's when I know he's at that very moment shooting streams of semen up inside my wife. I try to imagine what's happening inside her: his big dick throbbing, his cum splashing off the walls of her vagina. Sometimes she'll tell them "I can feel it! It feels hot!" Or sometimes just "Ohhh, you came so much!" (and they do).

It's also very hot afterward, when he's just laying on top of her, his semi-hard dick still inside her. She'll be holding him very tenderly and if he moves at all she cries out "Nooooo! Don't leave!" and grabs his ass cheeks to keep him inside her. Like I said, she tells me that her favorite thing about young guys is their amazing recovery powersthey're always ready to go again as soon as she is. The best is when he gets hard again without ever coming out of her. He'll just start rocking, moving inside her slowly at first, then get gradually faster. Connie will start to moan and move with him as he gets harder. She'll lock her legs over his and start pivoting her hips, pumping his cock back to life, and in no time they'll be fucking passionately again.

Yes indeed, my wife LOVES young cocks, and they love her!
End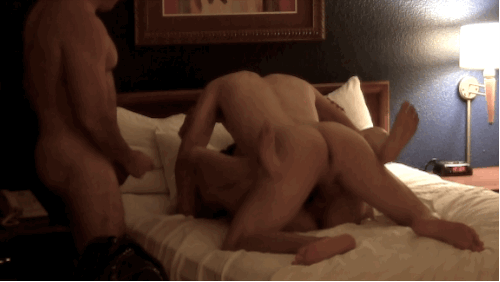 Cuckold Blog
||
Cuckold Story Forum
||
Cuckold Personals
||
Cuckold Chat
||
Truth or Dare Pics
||
Cuckold Pictures
||
Cuckold Ads
||
Nude Amateurs
||
MILF Cams
||