The Making of a Hotwife
Hubby Licked us both Clean
By: Katie
I hope you have enjoyed the true stories that my Husband has posted here. I thought you might like hearing from my side of this. After our threesome with Kent I knew that I wanted lots more and wanted some new guys. I talked hubby into placing an add and we picked out a guy who was willing to travel to meet us and set up a date.

I was very nervous meeting with someone that I didn't know, but was also excited about it. Hubby was also nervous about it, not knowing just what to expect but wanted me to enjoy myself and experience all that I could.

When he arrived the niight of our date I was very pleased with what I saw and was sure I was going to enjoy this. We all sat on the couch together and had a couple of drinks and made small talk, getting to know a little about each other. Soon hubby left to go to the bathroom and as soon as he was out of site Dan took me into his arms and started kissing me.

This felt strange kissing someone I just met and also very exciting. I hear hubby return and he joined us on the couch and started running his hands all over me while Dan was doing the same thing. Dan soon had his hand under my skirt rubbing my pussy through my panties, getting me very wet. Hubby pulled my skirt up and removed my panties for me and watched as Dan slid his finger into me. I had my hands in both laps rubbing their cocks and turned to hubby and kissed him while Dan expored my pussy. While hubby and I were kissing I worked my hand into Dans pants and started stroking his cock.

Hubby broke our kiss and removed my blouse and started kissing my tits as Dan was still finger fucking me. I was now totally naked except for my skirt and it was shoved up around my waist to I was completely expose to both of them. I broke away from hubby and turned to Dan and started removing his pants and shorts. As soon as they were gone I went to my kees and started sucking his cock and licking his balls. While I was doing this hubby went down on me and was giving my pussy and good licking and making me cum on his face.

By this time I was wanting that new cock inside of me so broke away and took Dan by the hand and led him to our bedroom. Once we were all ther we all got naked and layed on the bed with them on each side of me. I told Dan that I wanted his cock inside of me and as he entered me for the first time my hubby held my hand and kissed me. As soon as Dan was all the way inside I wrapped my arms around him and kissed him as he slowly started fucking me. I was so hot having this new cock inside of me with hubby right there helping that I was soon cumming all over Dans cock.

He took his time and really fucked me good making me cum many times before shooting his cum deep inside my cunt. I loved feeling his shoot inside of me and thought nothing could be hotter than that, but when he pulled out and I could see my cum mixed with his all over his cock and running out of my pussy and he told hubby to clean it up and I watched as my hubby got down there and licked our cum off of Dans cock as well as sucking it from my pussy I knew I was in heaven as hubby had never done anything like that before.

When had us both clean I watched as Dan guided my hubbys cock to my pussy and slid it in. He held me and kissed me as hubby fucked me and made me cum several more times. When he added his cum to what Dan had already left in me I knew I was going to love anything they wanted to do with me.

Dan cleaned hubby and me both up then we rested awhile before going again. This time Dan had me get in doggie position over my hubby's face then slid his cock into me again. Hubby was licking us both while Dan fucked me and I loved knowing he had such a great view of Dans cock sliding in and out of me and I loved feeling his tongue licking both of us. I came many times before Dan again filled me with his cum. As soon as he did he pulled out just enough to let all his cum run out out all over hubbys face and into his mouth.

We stayed like that for quite awhile letting my hubby lick and clean us both. We ended up fucking and sucking each other for over 7 hours that night. I had never been so well fucked in my life and knew that somehow I was going to have many more nights like this. I was hooked and wanted lots more new cock. I loved being such a total slut with someone I had just met and vowed to make my pussy available to about any guy that wanted it. Over the next 30 years I would suck and fuck many guys in many places. some with hubby there and some without. I will try to post more of my stories and experiences later.
End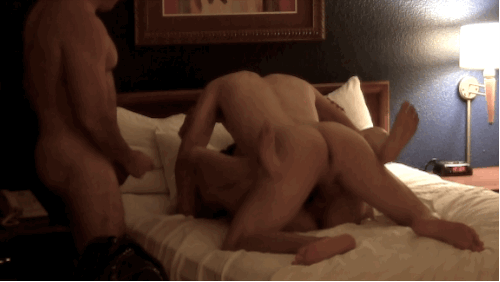 Cuckold Blog
||
Cuckold Story Forum
||
Cuckold Personals
||
Cuckold Chat
||
Truth or Dare Pics
||
Cuckold Pictures
||
Cuckold Ads
||
Nude Amateurs
||
MILF Cams
||