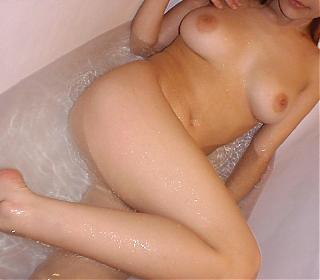 Fiance For Two
By: MiamiMark
After reading so many other stories and always getting so turned on I figured I should share my own first threesome MFM swinging experience. Please feel free to drop me any comments or if you would like me to post our subsequent adventures.
My fiancée, at the time, and I had been dating for about 6 years. We had recently been engaged to get married and everything was great between us. She was 22 years old, dark black long hair, petite with very nice C-cup breasts and light skin … a real knockout to say the least … and I'm not being bias.
We had talked about swinging from time to time and she would always answer with typical lines like, "I would never" or "I only need you" but somehow she always seemed to get more turned on after our discussions. One night I asked her if she would ever have sex with someone she felt attracted to if she knew for a fact that it would not affect us and would not get me upset. She paused and at that moment I knew she wanted to be with another guy.
We talked about which of our mutual friends she would sleep with and the first one on her list was my best friend Rick. Nothing was brought up again for a few weeks but in the meantime I talked to Rick to see if he found Cindy hot. At first he felt awkward answering but after a few moments he admitted that he always found her sexy but would never do anything because he was my best friend. Then I dropped the bomb and told him what Cindy and I had talked about and how I would love to set it up … he freaked out … but I could see he was ready to jump on the offer. Now I had to somehow set everything up without giving it away to Cindy, especially since she hadn't technically said yes to anything.
One night I told Cindy to meet me at a hotel near our home and to bring the outfit I loved. It was a red plaid skirt with matching top. Along with the dress she would bring the garter belt & stockings. It gave a real naughty school girl look and it was a real turn of for me and my friend. She asked why and I just told her to not be late.
At the hotel room I had a camera all set up. Rick and I talked for about 30 minutes until there was a knock on the door … Cindy was here and I was excited and nervous but I couldn't wait to see her with another man. Rick hid behind the wall and I had Cindy go to the bathroom and change into her outfit. She kept asking questions and I could say was to just hurry up. Finally she came out and I swear I was ready to cream in my pants. I quickly blind folded her and brought her into the room near the bed. Rick was laying on the bed rubbing his cock through the shorts and I was gently kissing her and fondling her right in front of him.
I turned her around and started to rub her breast from behind so I could see Rick's excitement. I guess the fact that another man was getting as turned on if not more than me by her without her even knowing was really incredible. I went down her body and began to run my hands up her stockings, slowly lifting the skirt so Rick could get a tease of what he was about to enjoy. Cindy just gasped lightly with every inch my hands got closer to her panties. At this point Rick was taking off his shorts quietly and I couldn't take much more. I motioned for him to come over and he slowly got off the bed and came towards her.
He started to kiss her and she jumped back out of shock. She started to ask me what was going on but he kissed her again and started to caress her breasts firmly. There was my fiancée between myself and another man getting felt up … this was awesome. I think she realized what was going on quickly and didn't want to ruin her fantasy come true.
I could tell he wasn't going to take this slow because he had already pulled down her top and was sucking on her nipples while his hands were lifting her skirt. He reached up and started to rub her pussy through the panties and she was breathing louder and heavier with every stroke. She turned her head to kiss me while all of this was going on. I started to work my hands down her body to see what he was doing and I realized that he had already taken down her panties and was beginning to finger her as she stood up leaning against me. I had never felt her so wet before.
WIVES POST THEIR PERSONAL ADS ... COUPLES FOR MEN
Before too long she ripped off her blind fold and was lying next to him on the bed. Rick took off his shorts and I could see the slightly nervous look on her face because she knew he had a large cock and was surprised by how large it really was. I'm not sure if she was more excited or nervous about having that inside of her but either way it wasn't long before he pushed her head down she was giving him a blowjob. She was never much of a blowjob woman but Rick wasn't going to take no for an answer and I think she wanted to really impress him and didn't want to seem prudish. She kept sucking on his cock while he played with her ass with his right hand. For the rest of the time I pretty much laid back and watched while I played with myself.
In no time he had taken her skirt and top off and all she was left wearing were black thigh high stockings and black high heel shoes still sucking him off. He pulled her head and leaned her back in bed so he could go down on her. I took the opportunity to walk over and start kissing her and ask her if she wanted him to fuck her. Cindy and I never really talked dirty in bed but I think this time called for it. As he ate her out I told her he wouldn't fuck her until she said it out loud. She finally couldn't take it and told him to "please fuck me … fuck me now".
I moved back and he got up on top of her, lifting her legs over his shoulders and reached down to position his cock right in her pussy. He started push in when I noticed her legs clenched around his head and she let out a small scream. She was trying to hold it in, I could tell, but it was more than she could handle so fast. Rick started the move his cock in circles around her pussy until she got a little more relaxed. He was playing with her breasts with one hand and had the other hand on the bed to support him. I noticed Rick then took the hand on the bed and placed it behind her head as he went down to kiss her.
By the looks of it I thought his tongue was going gown her throat. At this point he placed his other hand on her shoulder from underneath and while holding her, took a deep thrust and pushed his entire cock into her. Since he was holding her and pushing her head into the kiss she couldn't pull back but I could see that every muscle in her body tensed with the force of his large cock inside of her. I could hear her scream from inside of his mouth but he wasn't going to let go and it didn't seem she really cared. Her finger nails were digging into his back with every thrust and her eyes scrunched shut as I knew it must be hurting her. He stopped the kiss and pulled next to her head to whisper something but it wasn't until later that I found out what he said. Apparently he had whispered to her that he was going to fuck her like this every time and that she was going to beg for it. She told me she had an orgasm at that very moment. I wondered if he was really being serious or even if she wanted to … but for now it didn't matter.
There was Rick, my best friend, kneeling in front of Cindy holding her legs up with stocking and high heels and pounding away. Then he turned her over and started on her from behind, her favorite position. After a few minutes I asked to take over and he stood up and let me take control from the back. I could feel that her pussy had been stretched and that got me even more excited … I knew I wouldn't last long. Rick walked to the other side of the bed and placed his cock right in front of her face. She reached up and as I was fucking her from behind she placed as much of his cock as she could in her mouth.
Like I said, I didn't last very long and Rick soon came over to finish the job he had started. He lay again on her back and got right on top of her. His cock found its home again and this time he put both arms beneath her and grabbed her shoulders to help him thrust harder and faster. She was letting out moans of pleasure and yells pain with every thrust. Suddenly he pulled out and before he could stop it the cum landed all over her stomach. Cindy just laid back and looked at me with a smile from ear to ear. I knew she had a great time and Rick was quite pleased with her.
After a few minutes talking and laughing we all got dressed and left the hotel together. After Rick went on his way Cindy and I talked about everything and even though she was nervous she mentioned that this was something she might want to do again … and she did.
READ ALL OF MIAMIMARK'S TRUE STORIES
WIVES POST THEIR PERSONAL ADS ... COUPLES FOR MEN
© 2004 Cuckold Page