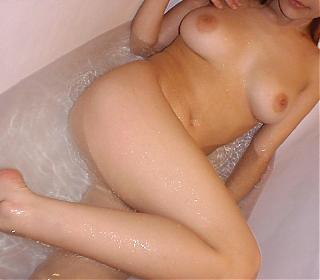 Fiance For Three
By: MiamiMark
For those of you who read 'Fiancée for Two', this is the third situation which occurred between my fiancée and best friend several years ago. I appreciate any feedback.
It was sometime in October and it so happened to be my best friend's birthday. Rick had wanted to get together and go to a local pub, have some drinks, and maybe dance a bit. I called up my fiancée and decided to pick him up and go out.
When we arrived at his house, his ex-girlfriend was there and she decided she was going to be his date for the evening. To give you some idea, my fiancée and his ex are very similar in build. They are about 115lbs, 5' 7", long dark black hair. The only difference is that Cindy, my fiancée, is very fair skinned and Denise is nicely tanned. Well, off the four of us went to the local pub … Hooligans.
Tonight Cindy decided to where one of those flirt skirts which rested about half-way between her knees and waist. On top was a satiny blouse which you could almost make out her bra given the right light. I knew she wore her dark blue lace panties and braw because they could be seen against the light colored blouse and skirt. Denise wore a summer dress, slightly longer than Cindy's skirt, but both accentuating their curves enough to make you take a second look. Needless to say, Denise's top was cut low and her cleavage was a sight to behold.
After a few hours and a few more drinks we decided to call it a night and head back to his place to chill and watch some television … but not before one last dance. He ended taking Cindy on the floor and I stayed back with Denise since she was too tired and not in the mood. While we sat talking I glanced over at Rick and Cindy and noticed that they had taken advantage of the crowded dance floor to press up against each other.
I don't think they knew I was watching but I notice his hands on her back thighs and ever so slowly trying to lift her skirt. I'm pretty sure she was getting aroused but I could see how nervous she was because she would push his hands away after a few seconds. But he kept trying and the delay to push him away was getting longer. She kept darting her eyes around trying to see if anyone noticed.
In a final risqué move, he pressed hir body against hers with one hand on her back, and his other hand in between them. I couldn't see what was going on but she did slightly jump up in his arms. Her face said it all. From the view of her back I couldn't see anything except for the fact that her legs were slightly parted further than his. The music was fast and everyone was dancing wildly, giving Rick the perfect cover to finger her. I found out later that he had actually ripped her panties and told her to stop fighting him.
WIVES POST THEIR PERSONAL ADS ... COUPLES FOR MEN
The song ended and Denise and I started to walk towards the door while motioning to them that it was time to go. I'm not sure if they took a long time or if it was my imagination but it felt as if we waited 10 minutes for them outside the pub. My mind was racing with the possibilities and what he might be telling her, but I didn't want to get overly excited since we were all going home.
We finally get to his house and we ended up sitting in his bedroom watching TV. His bed was only a mattress on the floor and faced the television and on it were Denise and Cindy with Rick in the middle. I laid myself next to the bed on Cindy's side with my back against the wall as the three of them had a blanket covering them.
At this point, I slid my hand up Cindy's side and started to gently caress the side of her breast through the blouse. I was trying to be secretive about what I was doing but once in while I saw her close her eyes and softly sigh. I wondered if Rick or Denise noticed anything.
After a few minutes I moved my hand down her waist and, under the covers and pulled up part of her skirt. As I was doing this I felt some movement and it wasn't coming from me. Looking over I noticed that she was rubbing or stroking his cock under the blanket and to my amazement, Denise either didn't see it or pretended it wasn't happening. It seemed so obvious as the blanket had a bulge and was slowly moving back and forth.
I was ready to explode at that very moment and all I could think about was fucking my fiancée right then and there. I didn't know what to do and I didn't' want to ruin the moment, so I decided to excuse my self to get something to drink. There I was in the kitchen rubbing my own cock through my pants imagining what could be happening in that room but knowing it probably wouldn't go any further with Denise there.
As I walked back to the room, I noticed someone in the bathroom and figured the moment was over and I would have to play with myself tonight. I went ahead and opened the bedroom door and stood stunned at the site before me. There was Cindy with her head against the headboard, legs apart and bent, skirt up against her waist and her panties nowhere to be seen … but that was because she lost them at the pub. All I could see was the back of Rick's head as far between her thighs as humanly possible. She looked at me as if to see if I was ok with this and as quickly closed her eyes, tilted her head back and moaned as if that was no longer a concern.
I left the room for a minute to gather my thoughts when I realized that Denise was coming out of the bathroom. She looked at me as if wondering why I wasn't going into the bedroom and I casually mentioned the fact that I think they were busy inside. As if it was the most normal thing in the world, she simply asked if it was ok for her to go in. Now I knew that Cindy had never been around another women in a sexual encounter and I wasn't sure how she would react but I stepped aside and let fate take its course.
By the time Denise and I entered the room, Rick and Cindy had switched places and Cindy was taking in as much of his cock as she could without chocking. Denise walked around the bed, let her summer dress fall to the ground, and knelt besides Cindy to share in the fun. Cindy must have been a little unsure of what to do because as soon as Denise's lips wrapped around his cock, she sat up and just watched as if taking lessons.
Through all of this, I just stayed against the door with my pants unbuckled and my hand rubbing away. This was absolutely amazing and I was speechless.
Rick finally rearranged himself and had Cindy sit with her knees by his head and Denise startled around his waist, both girls facing each other, both with their eyes closed in bliss. Denise rhythmically would go up and down, slowly picking up speed. Cindy would occasionally lean forward and push against his abs as if to hold herself from falling over as he ate her out.
At this point Cindy looked at me and smiled. I don't know what came over me but I motioned to Denise with my eyes and Cindy's smile turned into a grin. She reached up and started caressing Denise's C-cup breasts; moving down her stomach and back up. Denise's eyes flared open and faster than the blink of an eye, her hands were on Cindy's breasts, playing with her soft pink nipples. There it was … the moment I would die for. My fiancée sitting on another man's face fondling another woman as she fucked him hard.
Before I knew it, Rick reached up to grab Cindy's waist as he turned over and put her on all fours. Having known Rick for such a long time I knew his turn-on was rough sex but I never told Cindy that … I know she would hesitate and freak out. I do give Rick credit for holding back on his fantasies.
His hands gripped her hips so tight I could see the whiteness of her skin around his fingers. With nothing but passion and lust, he pulled her towards him as he thrust into her from behind. Until that day, I had never heard Cindy actually make sounds of pain. Denise knelt next to Rick and reaching down, squeezed her breasts. It seemed as if they were both getting some thrill out of holding her as tight as possible. Denise would hold her breasts near the nipples and as Rick pounded away, Cindy's body would jolt forward having her tits pulled harder. I just walked over to her and whispered in her ear, 'is this what you like, huh!'. But she never answered, only letting out the occasional grunt and moan.
In a final thrust he pushed her ass down as she collapsed on the bed and as his cock slipped out, he came all over the back of her thighs and ass. Her face was buried in the blanket and didn't move for a few minutes and Denise turned around and started to make out with Rick as she firmly fondled his cock, now covered in cum. He turned Cindy over and laid on top of her to kiss her and tell her something. This time he told her, 'I took it easy on you'.
After a while, we got dressed and said our goodnights. Cindy didn't look at me all the way home and I brought up the issue of if it hurt. She just nodded no and stayed quiet. When we got home that night we fucked several times and I could tell she was sore. At one point she grabbed my arms and said, 'harder, harder'. Afterwards, she asked me if Rick actually liked it rough or was just kidding. She admitted that it startled her and wasn't sure if she liked it but did say she did orgasm a couple of times when he was rough. We'll see …
READ ALL OF MIAMIMARK'S TRUE STORIES
WIVES POST THEIR PERSONAL ADS ... COUPLES FOR MEN
© 2004 Cuckold Page