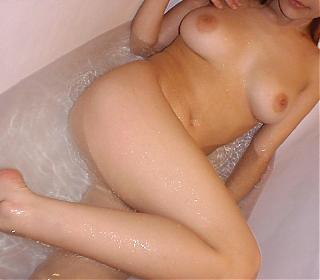 Car Ride
By: MiamiMark
Cindy, my wife at the time, had already had several swinging experiences with a few other guys. In all of the time we experimented I think Iíve only actively participated a handful of times. My real excitement always came from watching her fulfill her fantasies with other men or hearing about her encounters after the fact. For the most part, they usually happened with my best friend Rick. This was my most comfortable point and since I could always plan events with him, it helped make some of my fantasies come true.
Cindy is about 5í 8Ē 108 lbs of an amazing woman. Her creamy white skin is accentuated by her long raven black hair. With a fairly petite body, C cup breasts, and a flirtatious attitude, she had no problem in turning heads. Over the past 3 years (one before we were married), she really blossomed out of her shell.
Rick is about 5í 9Ē, in pretty good shape, well tanned and well hung. I donít deny he is quite a bit larger than me in that area Ö but itís all good. As long and Cindy doesnít call his name out when she is with me, Iím good.
On one of our regular outings to a local pub, we invited Rick to come along and share a few drink with us. Right away Cindy had one thing in mind and when she came out dressed in her favorite little red dress, I knew it. I didnít even have to ask but I knew she wasnít wearing anything underneath.
Rick came over and the three of us took off.
Once there, we walked around the see if anyone else we knew was there. We ran into one of our friendís sister (Ana) and her friends. They invited us to sit at their table and we plopped on the stools next to them. Sitting next to me was Cindy, then Rick, then Ana, along with about 10 people I had never met. Ana, Rick and I were catching up but Cindy wasnít really conversing much which made me glance down and realize that Rick was stroking her thighs and playing with her under that table. I was pretty sure Ana couldnít see it, but the fact we were at a high-table on stools, the view was clear from across the room. Thank God for low lighting.
After a few drinks we bid our goodbyes and left. On the way to our car we had to climb a few flights of stairs and Cindy took the lead. I was right behind her and I kept lifting her dress to expose her bare ass and she kept slapping my hand away. Rick would just make some sexual comments and laugh. When we got to car, Cindy and Rick began to make out and I had to yell at them to get in so we could leave. Cindy in the front and Rick in the back.
On the way home Rick was fondling Cindy from the back seat and her heavy breathing kept me hard the entire time. I would reach over and play with her using one hand, trying not to lose control of the car?. Halfway home, Rick pulled her into the back seat and took no pause before he was on top of her working his way inside.
As we got closer to the home, we had to pass through a toll booth and all I kept thinking was where I had the change because otherwise we would need to go into the ĎGet Changeí lane and it would not be good for the mood. Poor Rick and Cindy kept hitting their heads against the door Ö Saturn cars arenít exactly the most spacious.
Through the toll, off the expressway, and a few blocks later we were almost home and the two of them were still going at it. Cindyís moans were killing me and all I wanted to do was stop the car and jump on her myself Ö which is practically what I did.
Our home was located in a new development and down the street was nothing but empty lots and overgrown shrubs and trees. I passed our driveway and parked behind the shrubs in pitch darkness. On the other side, you could hear the cars on the expressway and once in a while the lights of a car turning down the street, but we were fairly secluded.
Once I stopped the car, I leaped out and opened the back door. Rick slid off of her and came out and Cindy asked me where we were. I didnít reply and simply took her hand and pulled her out of the car. Her dress dropped back down as she tried to mat her hair down since it was all messed up. With the dome light of the car I could see her flushed cheeks which was always a sign she was really getting into things.
Rick stood by the corner of the car pulling up his pants. I passionately grabbed Cindy and started kissing. I took her dress and lifted it up over her head and threw it in the car. Although she sort of hesitated as I was pulling it off, she didnít resist. I turned her around and leaned her over the trunk of my car from the side.
There was my wife stark naked bending over, her arms stretched across the trunk. Her white legs parted slightly and her ass looking incredibly inviting. All I had to do was unzip my pants and I was ready Ö hard and dying to fuck. Once I started I didnít stop. Cindy kept letting out little moans as my rhythm picked up and my thrusts got a little more forceful. She was trying not to be too loud incase anyone was close by Ö nothing worse than a neighbor walking her dog and running into us.
Unfortunately, all the build up was too much and I didnít last very long. I couldnít help it, this was too good. Once I finished, Rick (who I found out later was really nervous about doing it outside near the houses) stepped in and worked her to an orgasm. He turned her around and pinning her back to the car, lifted one of her legs and fucking until he exploded.
I took her dress which was on the back seat and climbed in the driverís seat, turning the engine on. Rick zipped up and sat in the car and Cindy kept asking me for the dress. I told her to get in and I would give it to her. Ooooops! I lied.
I pulled into our driveway and I quickly jumped out and headed for the door. Rick followed and Cindy stayed in the car with the door partially open softly yelling at me to give her the dress. I opened the door, Rick came in and I just looked at her and told her she better run before I locked the door. She bolted like I had never seen and rushed inside, completely naked except for her sandals. Rick and I were laughing which only made Cindy start cracking up.
She left to shower and I started to question Rick on how he grew the balls to finger Cindy next to Ana. That is when he told me he was more nervous about being outside the car with Cindy nude. We just laughed about it and he asked me if he could take a shower too Ö which I knew what he meant. ĎOf courseí, I told him.
Rick sneaked back into the master bedroom and slid into the shower. I just laid on the bed listening to the two of them going at it. When they were done, Rick quickly got dressed and took off to work. He had the late night shift at the prison and was running behind.
Cindy dried off and slipped into bed where she slid under the covers and began to give me an amazing blow job which Iím sure must have lasted 20 minutes. I loved nights like this and even more so the way she would get so turned on.
READ ALL OF MIAMIMARK'S TRUE STORIES
WIVES POST THEIR PERSONAL ADS ... COUPLES FOR MEN
© 2004 Cuckold Page