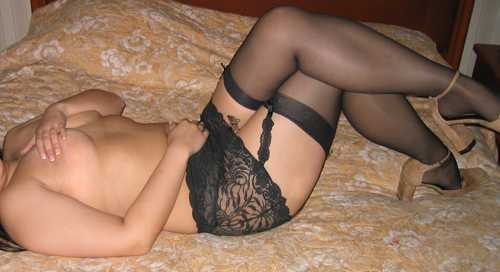 Cruising Nat II
By: MiamiMark
Hi Again,

Nat did go up and visit Chris a total of 5 times before our relationship ended. Believe it or not, she is now dating an old friend of mine which is totally fine because our relationship was mostly sexual, but the funny thing she still sees Chris when he comes down but her boyfriend doesn't know it. Ironic I think!!!

The first time after we all got together wasn't that exciting. She went up to visit some of her college friends and ended up meeting Chris at a local bar (part 1). They hooked up a bit and screwed in the car afterwards but nothing big.

It was the second time that really got me excited. I wanted to go so she told him that her cousin (once again me) was going up. He told her he would find some friends to set me up with which I found so funny.

We went up for the weekend and stayed at a Motel 6 off of the Florida Turnpike. Close enough to him and the local fun places. On Friday we ended up going to a local strip club which is nearby. Kind of dirty to say the least but Chris had his hands all over her and bought lap dances for her. He kept making jokes about me being grossed out by seeing my cousin like that and I said I was a little but nothing too bad … lol. If he only knew.

That night we all got pretty trashed and we all went home. The next day we met up with Chris and his friends for a football game. Two of his friends were players and it was a big game for them. They won and the party got even better that night. We went to the hotel and changed to meet them at his apartment (which he shared with 2 other guys) and then all went together to the party.

It was CRAZY packed and no one was sober. We pretty much ended up doing the same although I felt more like the older chaperones of the party with my age difference. Afterwards we all went back to his place along with one of his roommates girlfriend and a few new friends they knew from the party.

We played quarters which sealed our fate for the night. I could hardly stand up but I remember thinking how hot the roommates girl was. A young little thing wearing almost nothing. What I wouldn't have done to be with her I kept thinking…lol. Luckily, they were pretty much going at it (with clothes on) the whole time so I lived vicariously through him.

This is where it got a little crazy. Chris took Nat to a room down the hall and I knew they were going to have sex because he had taken off her shirt as they walked down the hall. The other 2 couples were each in a corner making out and the lights of the place were pretty dim so I really couldn't see too much unless I stared and even then my vision wasn't 100%.

I rested on the floor and I know I zonked out from time to time. I swear I thought this was Dejavu from the first time I was with them. Then Chris came out to the kitchen in a pair of shorts to grab some chips and was chatting with Hajj and his other friends. I didn't pay much attention and wanted SO BADLY to go to the room but that isn't something a 'cousin' would do.

Then Hajj walked down the hall and into the bedroom. A few minutes later Chris went back in. The next time I saw Nat was on Sunday late morning and that was to tell me to go to the hotel and that they would drop her off later and she would tell me everything .. .and then kissed me quickly so no one would see.

On the drive home she gave me 2 blow jobs and 2 hand jobs (it was a 5 hour trip) and she told me all the details and all I could do was ask more and more.

The first time Chris took her into his bedroom, it was just good sex. He ripped off her clothes and had her give him a blowjob. He went pretty quickly into sex and lasted a long time. He kept trying to stick his cock in her ass and she wouldn't let him but ended up letting him stick his finger in her while they fucked.

While they were having sex he told her that Hajj was really jealous of him for being with her and that all he talked about was her. He 'confided' in her that Hajj asked him to let him watch but that he didn't know. She told him that she didn't care. That is when Hajj went in.

Before Chris got in there Hajj sat on the edge of the bed while she was on her belly and began to rub her legs and ass. She didn't move. Then Chris came in and Hajj just stayed on the bed and she felt a bit weird thinking we were going to go to the corner and watch or something. Instead, while Chris went down on her, Hajj got undressed and started to play with himself.

When Chris climbed on top of her Hajj got off the bed and walked to the other side. Then she felt his hand playing with her pussy and with Chris's balls. Ends up they were both bi-sexual. She was a bit grossed out but didn't say anything. Chris turned over and got Nat on top of him and that is when Hajj got on top of her and tried to dp her with Chris. She said Chris was a little forceful by wrapping his arms around her but when she actually told him 'no', Hajj stopped trying.

They both took turns with Nat that night and in the morning Chris told her to have me go ahead to the hotel and she could stay for a bit longer. When I left, Hajj's girlfriend came over. I thought he was single but still dating same girl I met in Miami.

They ended up having sex in the same room but no swapping. She loved to watch Hajj and his girl knowing she was with him just a few hours before.
READ ALL OF MIAMIMARK'S TRUE STORIES
WIVES POST THEIR PERSONAL ADS ... COUPLES FOR MEN
© 2004 Cuckold Page