Pleasured on the Stairs &nbsp&nbsp&nbsp&nbsp&nbsp&nbsp

BY: Anon Hubby
My wife and I have had quite a few threesomes in the past with my best friend, seeing as she cheated on me with him for the last two or so years. So we just began having an open relationship instead of sneaking around behind one anothers back. She had a girlfriend that had introduced her to a guy that she began seeing on a regular basis. They hooked up on their first encounter in the park where we live. My wife came home and shared the story with me of how they drove to a somewhat secluded area and began fondling each other while sitting in our truck. Things got hot and heavy, so they decided to take things to the back of the truck even though it didn't have any form of coverage. This was the first time she fucked this guy, in the back of our truck in the park, open to any onlookers if someone did happen to pass by.
Well, seeing as my greatest fetish is to watch my wife get fucked, I suggested that she invite this guy over to our place so I could watch them having sex. I didn't want this guy the feel awkward, so I told my wife not to tell him that I would be home. She understood how my greatest turn on is to see her getting fucked so we decided that I should be watching from the stairs as they got naked and fucked. He arrived at about seven o'clock that night so I ran upstairs before he could see me. As they sat and made small talk, I snuck down the stairs as slowly and quietly as I possibly could. My dick already had a stir in it by just knowing that she was about to fuck another cock while I watched hidden on top of our stairs.


Soon the small talk turned to soft moans as I edged my way further down the stairs to see what was pleasuring my wife so greatly. I stood on the stairs and peered around the corner to see that my wife was now naked with this guy between her legs eating her cunt while shoving three fingers in and out of her soaked pussy. He was licking her cunt and fingering her so fast that she soon had an orgasm. He kept up the tongue lashing as my wife moaned and shook her head side to side with pleasure. As I was watching from the stairs, Ipulled my shorts down below my waist so I can jack off to the site of my wife being pleasured by another man. Not long after I had my dick in hand, my wife had another orgasm from the tongue licking of her new man. She has a very sensitive clit, so every touch or lick will send her into an erotic state of arousal followed by an orgasm. Soon he stopped eating her pussy but continued to finger fuck her while using his free hand to pinch and rub her 36C tits. My wife now had her legs drawn up to her chest as this man fingered her pussy to extreme wetness pushing his three fingers in and out of her cunt.
All of his onslaughts ceased as they moved from the couch to the floor into a 69 position. Now for the first time I got to see this other guys dick as my wife began sucking it into her mouth with sounds of pleasure. It was a good 6 to 7 inches and about as round as my wrist. I looked at my own 7 inch member as I was furiously jacking it off to see that my dick was longer than his, but he definitely had me beat as far as girth was concerned. Being a bi-curious male, I quickly thought of what his cock might actually taste like. But watching my wife bob her head up and down that thick shaft was enough to satisfy my libido.
They continued the sucking and licking and slurping for quite some time as my wife was moaning to yet another orgasm. The moment I have been waiting for finally arrived as my wife rose up above her lover to lower herself onto his average yet very thick shaft for the first time that night. I began to jack my dick faster as the mere sight of my wife riding and pleasuring herself on his dick was the fulfillment of my greatest fetish. I was jacking off so fast that I shot a small load of spunk into my hand since I was both trying to enjoy the orgasm yet hold it back to wait for the grand finale. I managed to subside my orgasm for the mean time but had to lick up the small load of spunk I shot on my hand so I wouldn't miss out on any action. My wife continued to ride his thick pole until she just couldn't ride no more. As a matter of fact, they had to take a rest because my wife had orgasmed so many times that she got a little dizzy from the pleasure of his dick. I too ceased from wacking off so I wouldn't loose the joy of cumming before their fucking actually stopped.


I sat on the stairs waiting to hear a sign that my wife was ready to be fucked some more. Then I heard it, sounds of slurping and moans. Peering around the corner, I could see that my wife was again sucking her lovers cock to get it nice and hard for round two. My dick was starting to rise for the occasion, so again I lowered my shorts below my waist to start my jacking off while she continued to suck his dick. Once she had him nice and hard, she laid on her back so he could mount her with his hard shaft. She knew how badly I wanted to see his cock sliding in and out of her pussy so she positioned herself to give me the perfect view. He raised her legs above his shoulders as he inserted his thick shaft in her juicy pussy. Her lips engulfed his dick as he slowly began pumping her cunt with his thick memeber. Jacking off my own dick, all of a sudden became a burden, as I saw him pounding my wifes pussy none stop. I was at this point wishing that I was there licking her clit while licking his dick each time he withdrew it from her pussy so I could taste her juices mixed with his. I managed to hold off my orgasm once again as this man pounded at my wifes pussy with everything he had. He continued to thrust in and out with great force for what seemed forever while I did by best to match his thrusts with my fist.
It wasn't long before he began to moan louder and stiffen as I knew he was now shooting his cum into my wifes satisfied pussy. I wasn't very far behind as I again shot my cum in my hand, but this load was by far larger and more intense that the last. As I began licking it off my hand, I heard them raise up off the floor as he anounced that he had to leave because he had to get to work early the next morning. As the door shut, I ran down the stairs and pushed my wife on the couch, sinking to my knees to lick her cum soaked juices from her pussy. Boy, do sloppy seconds really get my hormones raging.
I sucked and licked his and her cum mixture from her pussy as my dick came to its full hardness. Content with lapping up all the cum from her cunt, I rose up to slide my dick in her now extremely soaked pussy. It didn't take much effort or time for me to add my cum to whatever mixture remained in her pussy from her previous fuck session. Even then, I withdrew my softening cock to again clean her pussy from its mixture of cums. Now my wife and I are having trouble deciding which act is actually my fetish: watching her getting fucked by another guy or licking and sucking out his cum afterwards. Which ever it is, both seem to get my dick hard and ready to add to the mix. The taste of another man's cum in my wifes pussy is even greater than just eating that cunt with only her juices.
Anon Hubby
COUPLES ... AFTER DARK FUN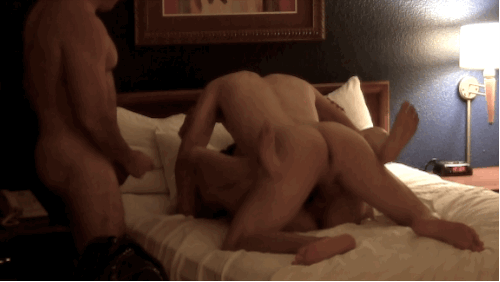 FOLLOW THE GAMES ...

Every evening laptops get turned on and the consumption of cuckold videos begins. Ravenous wives taken, cuckold husbands watching and stroking ...





© 2004 Cuckold Page