Roger Called &nbsp&nbsp&nbsp&nbsp&nbsp&nbsp

BY: Jerry
I am writing this tonight as Roger just left and Cheryl is exhausted. First, let me tell you that Roger never called after our get together around New Years for the open house. Cheryl waited and waited, but was too proud to call him and he lost her number. Fortunately, I called our neighbors and without telling Cheryl got Roger's office number and asked him to give Cheryl a call. It didn't take any encouragement from me as he was anxious to see her again as well.
For those of you who didn't read the last story or may have forgotten, Roger is a giant of a black man who is a former professional athlete with an attractive wife Dawn that I got to fuck the last time we were together. This time, however, I just wanted Roger and Cheryl to have a good time together and maybe get to not only watch, but to videotape the screwing session.
Tonight is Friday night and Roger told Dawn that he had a late dinner meeting and would be home late so that he could come right to our house. This morning I heard Cheryl on the phone and she was estatic about the fact that Roger had finally called. Since she had no idea that I had given him the number she was really excited. When she hung up the phone she told me that Roger wanted to come over tonight and did I mind. "Of course not," I replied. "Maybe I can watch and see a little better this time and even videotape the fucking for our collection." Cheryl readily agreed and started making arrangements for this evening. She had her hair done, a facial and all the stuff that women do and was back home before cocktail hour.
The bell rang around five and I had already fixed drinks and made some sandwiches so that none of us had to stop and eat dinner. When Roger walked in the door he nearly filled the doorway with his 6' 4" frame and I had forgotten just how big he was. After kissing Cheryl hello he sat down and we all had a couple of drinks and talked about our last session. Cheryl was concerned that I was being left out and asked about Dawn. You see, she didn't know that I had asked Roger to come alone. Roger assured her that Dawn was busy tonight but maybe could meet with us another time.


I asked Roger if he minded if I set up the videocam so we could have a lasting memento and he agreed, provided that I also be in the video and that it be kept private since he is a fairly well-known celebrity in town. After we agreed to the terms, he and Cheryl began soul kissing and taking each others' clothes off until they were totally naked and I was still dressed. Roger then picked Cheryl up like she was a toy and laid her on the couch and began to eat her moist and ready pussy. As he licked up and down I could see his dick which was only semi-hard began to grow until it was at least 9" long and about as big around as a beer bottle. Cheryl was moaning and humping his mouth while he used his also long and talented tongue to bring her to her first orgasm of the night. The camera was running and while adjusting for lighting and proper angle I also got undressed and needless to say had an urgent need for some sexual relief, but didn't want to intrude on what was happening with them.
When Cheryl had her first major orgasm Roger spread her legs even farther apart and slowly began to insert his massive dick into her waiting pussy an inch or so at a time. He was so large that I ran to get the KY jelly and then with the additional lubrication he began to tease her an inch or so at a time until his balls were slapping against her ass and she wasn't aware that the camera was on or that I was even in the room. As he raised her legs up in the air over his shoulders and reached the maximum penetration I had to adjust the camera again and damn near lost my balance as I tried to watch and play cameraman at the same time.
Roger then picked Cheryl up and as she wrapped her legs around his waist he walked her down the hall to the bedroom keeping his dick firmly in place and now the camera was completely out of range. They , that is he, walked fairly quickly as Cheryl bounced on his dick with each step he took and I ran behind with the tri-pod. When they reached the bedroom the bed was ready and waiting and as he laid her down, he slipped a couple of pillows under her ass so that her pussy with his still thrusting dick was at the right level for him to stand at the side of the bed and slam his black meat home with great enthusiasm. Cheryl looked like she was in Heaven, but she also looked uncomfortable as her ass was way above her head. Being a considerate husband, I got some more pillows to support her back and her neck so that she was almost level and she began to move, thrust, twist and enjoy all of Roger's cock until he had to pull out and the pillows were thrown on the floor.
Now Roger still hadn't come and he was more than ready. Turning Cheryl over on her hands and knees he put his cock back in her pussy and fucked her doggie style until both of them exploded in a giant orgasm. As Roger and Cheryl got their second wind I changed tapes and restarted the camera while walking over to the head of the bed and placing my penis at Cheryl's red and wet mouth. She eagerly began to suck on me until I was dying to cum and held her head and fucked her mouth until I shot my own load which she gladly swallowed for me.
Roger was now ready for more and so was Cheryl as she is multi-orgasmic and loves a lot of fucking. This time Roger laid on his back and Cheryl slowly lowered herself over him until her vagina was sucking on the tip of his cock and she was rotating her ass as she lowered her pussy and began to take him all in her hot pussy. I could see all 9" inches disappear, reappear and disappear again and again until he shot another load in her and she simultaneously orgasmed with him. Now the cum was running out of her pussy and all over his black balls and the sheets.
They laid there together she on his chest and he with his shrinking dick in her pussy until the sight was just too good to be imagined. The tape on the camera ran out and as the camcorder shut down I had seen enough and slipped out of the room. As I write this , Roger has gone, but we have a fantastic couple of videotapes to watch together later.
Cheryl & Jerry
Tampa, Florida

COUPLES ... AFTER DARK FUN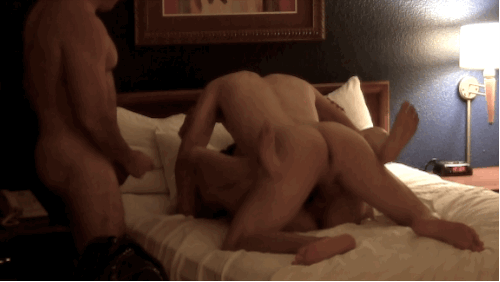 FOLLOW THE GAMES ...

Every evening laptops get turned on and the consumption of cuckold videos begins. Ravenous wives taken, cuckold husbands watching and stroking ...





© 2004 Cuckold Page