New Years Eve Open House &nbsp&nbsp&nbsp&nbsp&nbsp&nbsp

BY: Cheryl
New Years Eve Jerry and I were invited to an Open House Party by some friends of friends who are new to our neighborhood. Jill and Dave, our next door neighbors who occasionally swing with us invited us to meet some new people Jan and Charlie.
It was cold here in Florida on New Years Eve and there were about a dozen other couples already there and drinking up a storm when we arrived. The house was large, but it was necessary to open up the patio windows to the pool so that some of the overflow could drink out there.
This made the house so cold that we put our coats on to stay warm when our host told us that after midnight the party would warm up with some X rated entertainment. Needless to say that after a couple of hours of drinking and visiting with the other couples, okay call it flirting with some of them the appointed hour arrived.
By shortly after midnight, most of the couples had gone home, the windows were closed and the heat turned on. Then Charlie put a porno tape into the VCR above his 60" TV and it started to get really hot ! Most of the couples still there had started making out on the couches either with their spouse or some other attractive person of the opposite sex. The movie was about interracial sex and there was a lot of hooting about the size of the male equipment until we became aware that one of the couples still in the room were Roger and Dawn a black couple who nobody wanted to offend.
Roger was about 6'4" and 240 pounds, an executive with a local company and a former professional athlete, and his wife Dawn was about 5'2" and maybe 120 pounds which on the surface made them look like an unlikely couple until you realize that almost everyone is the same size lying down together.
Wouldn't you know it that Jerry asked me if I had ever had a fantasy about sex with a black man, and I told him that I hadn't. However, that wasn't the entire truth as I guess most white women at some time think about what it would be like with a black cock.
As the evening wore on it became apparent that Roger had his eye on me and Dawn seemed to be interested in Jerry. Eventually I got up the nerve to ask Roger if he and Dawn would like to swap with Jerry and me and he actually jumped at the idea.
We retitred to one of the many bedrooms in the house and Dawn and Jerry wasted no time in getting naked and on the king sized bed where Jerry began to lick and suck on Dawn's neatly shaved pussy. They quickly moved into a 69 and were oblivious to Roger and me.


Roger began to remove my clothes one by one and licking and sucking on my nipples at the same time. He had one hand on my breast and another on my pussy while he was fully dressed. He then picked me up and laid me down on the bed next to Jerry and Dawn and began to take his own clothes off.
When he got down to his briefs I could see that he had some massive equipment there and was ready to use it. He wasn't the best endowed man that I had ever had, but he was way above average. He was about 9" long and more than 2" thick by my best guess. Nevertheless, he didn't stick it in me right away like I expected, but began to kiss, lick and suck on my vagina with a lot of emphasis on my clit. By now I was begging to be fucked by that stud but he had other ideas. Meanwhile Dawn looked over and commented that her man liked to eat white pussy while never doing that to her. Then she smiled, so I didn't know if she was sincere or not.
Roger continued his attentions on my pussy and I was trying to get in a position to suck his big dick when he rose up over me, mounting me in such a way that had me pinned to the bed. Then he took his big cock in his hand and rubbed it up and down my slit until the honey was flowing all over my upper thighs. "Please fuck me now," I said and he was ready and willing. He took his black cock and put about 2 or 3 inches in and then slowly pulled it out until I could adjust to his size. He was very considerate about that and had me in an orgasmic frenzy waiting to get it all. After a few minutes of teasing me with it he slid all 9" home and began to rock the bed with his thrusts. Jerry and Dawn were now satisfied for the moment and they just laid there and watched as the pounding of cock and pussy sounded very loud in the quiet room.
Roger must have given me four or more orgasms before he shot his load of cum in my vagina, but he still didn't go soft. He turned me on my side and entered me from the rear in spoon fashion and this kept Jerry and Dawn from watching as we were facing away from them at that time. Again and again Roger brought me to orgasm while his cock stayed hard.
Finally, as I was starting to get sore he shot a final load and collapsed beside me while his cock softened but stayed in my pussy. We feel asleep that way and when morning came all four of us where still in bed together.
We showed, dressed and went home without getting Roger and Dawn's telephone number, but I'm sure Jan and Charlie could get it for us. In the meantime I am just waiting to see if Roger calls me in the next few days. So far I have heard nothing, but don't want to be the one that calls him. Jerry on the other hand is pushing me to call so that the four of us can get together at our house.
I'm anxious, but I'm going to wait Roger out. Stay tuned.
Cheryl & Jerry
Tampa, Florida

COUPLES ... AFTER DARK FUN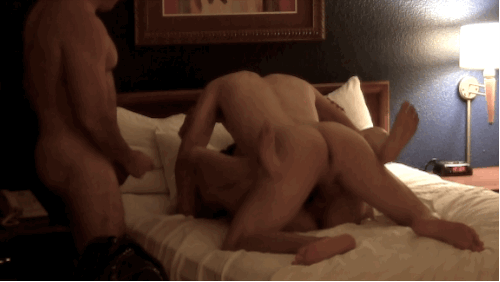 FOLLOW THE GAMES ...

Every evening laptops get turned on and the consumption of cuckold videos begins. Ravenous wives taken, cuckold husbands watching and stroking ...





© 2004 Cuckold Page