Interracial Interlude&nbsp&nbsp&nbsp&nbsp&nbsp&nbsp

BY: Jerry Owen
I recently discovered how to suck on both of Cheryl's tits at the same time which in and of itself almost brings her to orgasm. If any of your readers want to learn this trick I would be happy to share it with them. However, this story began this morning when Cheryl and were laying in bed and I was sucking on both of her tits including the areolae when Cheryl was moaning in near orgasm, " I wonder how it would feel to have two black men suck on my tits at the same time. I bet they could get all of my tits in their mouths and how good that might feel."
Never one to pass up an opportunity to please my lovely wife, I told her I would think about how to work that out, and I did. As I drove to work this morning to the new office building I am having built I began to think about Treyshawn and Vernon, two young college students on spring break working off the clock for me on the new building. They are on spring break and needing spending money were anxious to take me up on my offer of work.
When I pulled into the lot I saw both of them taking a break and drinking a jug of water as their black chests shone in the morning sunlight making it look as if they had waxed their chests. " Hi guys," I said, " whazz up?" They didn't take offense to my comments and just laughed and said they were taking a break since they had been working non-stop for over two hours.
I asked them how they would like to take the rest of the day off with full pay and come home with me to see my wife. They liked the idea of a day's pay with no work even though they suspected it would mean spring cleaning. "You guys are going to like what I am going to suggest," and I told them of my wife's early morning fantasy. "Wow, that sounds great to us," Treyshawn said, and Vernon's eyes were half out 0f his head in anticipation.
I should mention that both of them had seen my wife as they were frequent lovers of the two white college girls who lived next door and that is how I happened to sign them up. Neither of them had seen her naked, but both commented on what a hottie she was.
They then got into their car and followed me back home and as we walked into the house Cheryl had just stepped out of the shower and called out, " who's there?", since I was to be at work and she thought maybe our neighbor had just let herself in and as they often do had a cup of coffee together.
" It's just us guys," I answered," and you appear to be dressed for what you wanted earlier this morning." Cheryl is not known to blush but as she stood there in the hall with only a towel covering herself she saw Treyshawn and Vernon and immediately got the idea. " Okay, you two since Jerry took me up on my fantasy, you guys take a quick shower and I'll be ready for you when you finish."
With that each of them went to separate bathrooms and took a quick shower and then walked back into our bedroom with their monstrous dicks swaying back and forth as they walked and saw Chery on the middle of the bed naked as before, minus the towel and patting each side of her in invitation.
They each laid down next to Cheryl and began to suck and lick on her aroused nippples taking them into their mouths, swirling their tongues around the nipples and then pinching them with their hands while pulling on the for even more stimulation. " Oh my gosh ! that feels heavenly, don't stop." They weren't about to stop either as they almost swallowed each tit and then as I watched from the doorway with my camcorder I saw both Treyshawn and Vernon reaching with their hands for Cheryl's pussy lips. Now Cheryl was on fire and grabbed both of their hands and told them to each put a finger into her pussy and rub her while they continued to suck.
This went on for several minutes until Cheryl said," now I need one of those big dicks in my cunt and who is going to be first?" With that, Vernon rolled over on his back and with his strong arms lifted Cheryl up and slowly lowered her down on to his purple dick until she moaned that he was filling her up, and had Treyshawn stand up over Vernon while she sucked him and they got a rhythm going. This was everything Cheryl had wanted and had no idea that the boys had plans of their own. Treyshawn moved away and got behind Cheryl on his hands and knees and when I saw what he had in mind I quickly got some KY jelly and handed it to him. He then spread a gob of Ky jelly all over his big dick and told Vernon to pull Cheryl up against his chest so that her pussy with Vernon's dick was in plain view. Cheryl must had an idea what was planned as she said to me, "Jerry, you aren't going to let them double penetrate me, are you?" Yes, my dear I sure am and I hope you'll like it.
As Theyshawn started to insert his dick into Cheryl's cunt hole there wasn't enough room for both of them despite how hot and wet Cheryl was and how slippery Treyshawn's dick was. As necessity is the mother of invention, Treyshawn took his hand and first one finger then two, then three went into Cheryl's pussy along with Vernon's dick and then with a quick movement he slid his dick into Cheryl and she screamed, " Oh, ung, ungg, this is like fist fucking, but it feels better keep it up you two."
After Cheryl had a couple of orgasms and both of the guys had shot a load of cum into her cunt they all rested for a few minutes while she stroked both of them gently, but as you know, young men recover quickly and before long they were ready to go again. This time Vernon tried to suck on both tits at once with the trick I had shown him and Treyshawn was behind Cheryl burying his tool deep in her cunt. "Whee ! I didn't think I could cum again, but this must be at least four or five, I have lost count."
The guys had to cum again so as Cheryl sucked Vernon and he shot a load of cum down her throat, Treyshawn lifted her up doggie style and ramming his 9" dick deep and hard he came too.
Now Cheryl was done for the day, and I still hadn't cum so she had me come lay next to her as she sucked me off and Treyshawn operated the camcorder.
We all the swam nude in our pool to cool off, had lunch, and I let them go for the rest of the day having paid them in cash for their work. Cheryl said, " You didn't have to pay them to fuck me did you?" and I said, " no, I just told them they could take the rest of the day off with full pay and they agreed to it. The fucking and sucking was your idea, how did you like it?" "I loved it" she said, do you think they could come back again tomorrow? "Nope, they have too much work to do on the new building." "Oh well, maybe I'll just stop down at the new building tomorrow and see how things are coming along."
With that, her fantasy was fulfilled, my voyeurism was satisfied, and my curiosity about tomorrow was stimulated.
Jerry Owen
COUPLES ... AFTER DARK FUN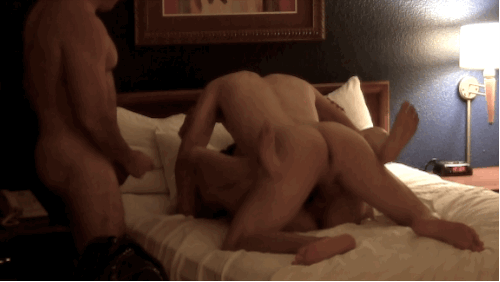 FOLLOW THE GAMES ...

Every evening laptops get turned on and the consumption of cuckold videos begins. Ravenous wives taken, cuckold husbands watching and stroking ...





© 2004 Cuckold Page