Fuck my Wife &nbsp&nbsp&nbsp&nbsp&nbsp&nbsp

BY: Bonnie & Dennis
Let me set a liitle background as to the events time frame.We were residing in New Jersey and Dennis was working in New York City. There were a lot of stresses involved in his job and he tried not to bring the job home with him. I guess our way of relieving sexual tension was to enjoy a round of torrid sex when the children would permit us to enjoy some quality adult time.Well after 20yrs or so the sex began to get a little stale and Dennis started bringing home swingers magazines and showing them to me and asking me if I thought that it would spice up our sagging sex lives.I reminded him that I was a "true virgin when I married him and that I didn't need to try another man's dick to appreciate his.I reminded Dennis that he was and always would be my one "true love" and that there would never be another.At that point I was dead set against swinging or mate swapping of any sort.
After a few months,he started to get me to fantasize with him whenever we made love about catching me fucking other men during my lunch hour etc.I started to notice that I was really starting to enjoy the fantasy sessions and I was extraordinarily wet during those sexual sessions.I would be very explicit in my descriptions of what the man or men would do to me and what I would do to them. Still in the back of my mind I was telling myself that it was only fantasy and that I would never really fuck another man.


Well,Dennis had to go to Rome,Italy for 6 months,and I can tell you my pussy was on fire daily thinking about Dennis' dick and how I missed it in my pussy.When he finally came home,I had arranged for my mother to fly up from New Orleans to stay with the children so that Dennis and I could have some quality time together at a swanky hotel (Plaza) in Mahattan.I packed my suitcase with a load of new sexy lingerie that I had purchased from Victoria's Secret and Frederick's of Hollywood and I was determined to to make him so aroused that I hoped that the weekend in New York would be just one long sexual marathon.
Once we got settled,I began to "model" the various outfits for him. He asked me to stop for a few minutes and noted that he was on the phone with the concierge.After about 30 minutes a knock at the door and Dennis took a box from the bellboy and gave him some money. I saw it was a polaroid camera with several packets of film.Dennis told me to continue modeling for him as he took photos of me. Now he asked me to model some of the outfits with my 40D breasts exposed for the camera.Then he would ask for photos of the lingerie sans panties with extremely provocative poses with my pussy exposed. Now I had gone from being very embarrassed to being extremely turned on for his camera.I became quite shameless and I was dripping wet and wanted him so badly but he wasn't making an attempt to fuck my pussy. I managed to finally get ahold of his hard cock and began to suck on it like some wanton street whore.He wouldn't let me make him cum but instead began to slowly eat my pussy as I had one orgasm after another but I still needed a hard cock but couldn't get him to give me the hard fucking that I had been missing and dreaming about for 6 months.Then it happened,and I knew he had me!!
Dennis asked why don't we go over to the "La Trapeze" club which was the premier swingers club in New York City over on W.27th st.I didn't know what the rest of the night held in store for me but I knew that it promised to be very exciting by the look in his eyes.Dennis told me we didn't have to do anything with anyone,just look and watch and fuck each others brains out.Did he say "fuck",YES I replied and I began to look through my suit case for my sexiest outfit.I settled on a black mini skirt,with a sheer white blouse and for a bra I wore one of "Victoria's" special "shelf bra" which has no actual cup,but merely the bottom of the cup and your breast merely sits or lays on the shelf. This gives the breast a totally natural bounce and shake as you walk and my large pink nipples were plainly visible to all.I wore black sheer stockings with black garter bely and my favorite pair of 5 in. come fuck me high heels with ankle strap.Panties--didn't wear any as they would be sopping wet in 5 minutes. I let Dennis know that I wasn't going to wear panties and he shouted "good" from the other room. When I walked into the room to show him my outfit he swept me into his arms and the passion in his french kiss and his throbbing cock that I stroked in his slacks told me all I needed to know.
For the first time I felt strangely alive and in control and excited as to what the evening had in store for us. We took the elevator down with several other individuals and I could see them staring at me and my outfit probably wondering if I was a hooker who had just serviced Dennis in his room.We went outside of the hotel and the doorman hailed a Cab for us and I think that I gave him a good look at my softly-haired pussy as Dennis had his back to the cab as I was sliding into the seat.The doorman gave me a big smile as Dennis pressed some money into his hand,and as Dennis got in the cab the doorman closed the cab's door and said "you have a fun evening"! Dennis told the cabbie,"W. 27th st, the La Trapeze club" The cabbie responded,"Yes Sir" with a smile on his lips as he checked me out in his mirror focusing on my big jiggling tits.
The taxi arrived at a very non-descript building on W. 27th st..There was only a buzzer and speaker on the outside brick wall near two large metal doors.Dennis pressed the buzzer and asked if this was the "La Trapeze Club"? A voice over the speaker said it was and the doors suddenly opened.We entered and were met at a small window by a tall blond named "Pat" who charged us $60 for admission and then placed name tags on us and began to show us around the club introducing to people as we went along.After a tour of the club (it was quite large with two stories)we returned to the front lounge area and settled down on a loveseat and began to watch a monitor which was showing a video of a swing party.We also had a clear view of the dance floor which had several couples dancing and talking in various states of dress(undress).


Dennis was constantly reassuring me and talking to me as I was visually taking in the sights of all of these sensual people. I began to feel a slow wetness growing in between my legs as I shyly began to stroke the outline of Dennis' dick in his slacks.A few couples visited the buffet table near where we were sitting and smiled as they looked in our direction.I could sense and feel Dennis' cock start to throb and grow.He stroked my thigh and slid his hand under my mini skirt as I opened my thighs slightly to give him better access to my increasingly wet pussy. It was about then that Dennis started to slowly work his fingers in and out of my hot wet pussy. I hiked my mini skirt up so that he could have an even better access to my dripping pussy. Now my pussy was plainly visible for anyone to see who wanted to. I was a little embarrassed but my passions and desires at the moment far out weighed my sense of modesty.
A middle aged couple near our ages came into the lounge area and sat across from us they were dressed very nicely but not too seductively.The woman first noticed Dennis' attentions to my burning pussy and nudged her male companion.She had just advised him that I was sitting there getting my pussy finger fucked by Dennis. I felt strangely even hotter now knowing that they were aware of what we were doing and were watching us intently.She started to stroke her male companion's cock through his slacks while her began to caress her breasts.After a few minutes of this Dennis said that we would walk around the club by ourselves.(Don't know how he could walk with the size of the erection he had on at the time.)
As we walked down the hallway pass small 10 by 10 ft lockable private rooms which had floor mats and pillows in them, I told Dennis to look at this gray haired man walking towards us naked.I was slack jawed as this man had a cock on him hanging flaccid which appeared to be at least 9 or 10 inches. I watched spellbound as he smiled at me and said hello. I could'nt even answer him but all I could think about was how big would his cock have been had he been hard??? Dennis and I went upstairs where we saw what looked like a inclined work table with a bench at the foot of it. We found out that it was built for a woman to lie on it and put her feet in the supports and the male (or female)would sit at the bench and orally pleasure her. Well, no one was around and Dennis convinced me to try it with him. I layed back on the table and placed my stocking legs and high heels in the supports.I was now reclining at a 45 degree angle with my legs split wide open and my overly wet pussy exposed to the world. Dennis moved my mini skirt up to around my waist (I was still too shy to remove it completely at this stage),and had me unbutton my blouse so that he and I could randomly caress and massage my big tits as he ate my pussy out. Dennis took his place on the bench and without any fanfare he started to play with my clit with his hot tongue. It must have taken me all of a minute to have my first climax. I reached down and grabbed his hair and tried to pull his whole head into my pussy it seemed... I started to moan and jump around as Dennis knowingly hit all of the right spots on me that usually makes me wild with desire. This time it was different as I was becoming wild with lust and I didn't care who knew it.I closed my eyes and drifted off on one climatic wave after another as I heard Dennis say he wanted me to work my tits for him as he continued to tongue my pussy. I worked my nipples feverishly as they grew hard and extended. I heard voices and opened my eyes to see about 3 or 4 couples standing around the table looking at me and smiling. Some of the women were bare breasted and some of the men were stroking their hard dicks as they watched Dennis lick noisily lick and suck my pussy. I closed my eyes again as if in a dream until the next orgasm hit me and I caught myself moaning out loud. I felt a pair of hot lips close over one nipple then another pair of lips begin to suckle the other nipple. I nervously looked down at Dennis who was eagerly eating my pussy and his eyes met mine.He raised his mouth from my pussy and smiled and said "relax and enjoy".My hands automatically caressed the rear of the heads of the men feeding on my enflamed nipples. Dennis redoubled his oral efforts on my pussy now. As I closed my eyes enjoying the sensations I felt Dennis stop eating my pussy and heard some soft whispering and felt my pussy being eaten again. After a few minutes something told me things were different. I opened my eyes to see a woman and a different man suckling my tits and the fourth man sitting on the bench where Dennis was, and now this strange man was busily eating out my pussy.This sight shocked me and at the same time the erotic nature of the moment pushed me over the edge.I felt a most intense cum rapidly approaching as my eyes frantically searched the crowd for Dennis' face. There he was standing nearby slowly stroking his hard dick watching ME!!! I asked him to come closer and I reached out and grasped his cock with my hand and started jerking him. At that moment,my cum struck me and I began to moan and cry and shake. I literally coated the guy's face who was eating me with copious amounts of my female cum.
The group started to congratulate me on having a wonderful series of climaxes. They helped me down,and the men all gave me sexy soft french kisses while their fingers probed my pussy lips. Dennis just stood there smiling. One of the women climbed up on the board and announced that it was her turn to have her pussy eaten. At this point, Dennis and I (on weak legs)walked down the hall to some semi-private "mat rooms. As we looked in we heard couples behind us talking about a hot blond with big tits that was just down the hall getting her pussy eaten out--they added boy,was she ever hot!!! That was me they were talking about and that created another surge of energy through my pussy.I noticed the middle aged couple from earlier in the evening, over in the right hand corner of the room with the very attractive woman naked riding the mans cock as he lay on the mat.She was facing his feet with her eyes closed and was slowly working his cock in and out of her pussy. He looked over at me and smiled and gave me a little wave. I nodded back.There was only one other couple over on the left hand side of the room. Dennis led me by the hand over to where they were lying and asked if we could share the space with them and they said "definitely".
Dennis and I slowly undressed each other and filled the moment with a lot of kissing and caressing. As we lay down next to them I began to slowly suck Dennis' balls while I placed my pussy squarely over his mouth. As I sucked his cock and balls I was looking directly into the eyes of the middle aged gentleman from before. He mouthed the words "I wish this was you that I was fucking" as he started to pick up the pace as he slammed his dick into his woman companion who was still riding his cock with her eyes closed. I moaned and deep throated Dennis' dick until my saliva ran down his balls. Dennis told me to climb onto his cock and I did and I chose to face the middle aged man.I was facing Dennis' feet also looking into the eyes of the gray haired man as his female companion picked up her pace as her climax approached. I mouthed the words to him,"I wish this was your big cock!". I started to slam down on Dennis' cock with wild abandon I was soon in the midst of an intense orgasm and my pussy muscles were making Dennis explode his cum deep in my pussy. I watch as the middle aged gentleman and his woman came together. I watched as his cock slowly slid out of her pussy and a torrent of his thick cum came pouring out. Dennis had me lie down as he slowly finger my cum filled pussy while he placed his soft cock in my mouth to suck hard again for him. I eagerly went to work on his dick as I still wanted more hard cock. Dennis quit fingering my sloppy pussy and I felt a warm tongue eagerly lapping up my and Dennis' cum from my leaking pussy. Dennis sat up still with his dick in my mouth and it was then that I discovered that it was the female of the couple next to us who was cleaning out my pussy. Her name was "Dee" and she was a tiny thing about 5' and only about 110 #,with about 36B tits. The man was a good looking guy in his late 30's who was called "Jake".


Jake crawled over to me and started to caress and suck on my tits and nipples. I continued to attend to getting Dennis hard again. Dennis pulled his hardening dick out of my mouth and started to suck one of my tits with Jake. Soon Jake disappeared down between my legs and Dee came up to suck on my tits with Dennis. Dennis then backed off and just started to jerk his dick slowly watching Dee suck on my tits and nipples while Jake hungrily ate out my pussy. Dennis then moved down and tapped Jake on the shoulder and with that Jake came up for air while Dennis slowly slid his newly hard cock into my hot and wet pussy. Jake came up to my face and for the first time I got a close up look at the size dick this guy was carrying. It was about the same size as Dennis' (8.5) but was about as big around as a beer can. Jake later told us his dick was 8 inches around. He offered his cock to me to suck as I nervously looked to Dennis for help,but instead Dennis just said as he slowly worked his dick in and out of my pussy,"suck his cock baby,suck him real good". With that a wave of heat flushed over me as I tried to wrap my hands around his fat cock but they could'nt encircle it completely. I slowly was able to get about three inches of his massive cock and shaft into my mouth and started sucking and lubricating his shaft with my saliva. I licked and sucked on his large balls which hung very low in his sac. Dennis must have been very turned on by all of this as I heard him grunt and felt him shoot his cum deep in my pussy.
As Dennis pulled his soft dick out of my pussy Jake moved to take Dennis' place I started to protest but the words won't come out of my mouth. Jake held my legs on his shoulders and I felt the large cockhead as he worked it up and down my pussy lips getting a liberal coating of my juices on it. I tensed just a bit as he slowly slid his very large cockhead past my pussy lips. there was no pain or discomfort as I had expected probably due to the abundant amounts of cum that I had already received from Dennis during the course of the evening. Jake finally got all of his super fat dick into my pussy and started to fuck me slowly. It was wonderful. It was good but different from the feeling of Dennis' cock. I started moaning and cumming almost constantly. I looked over and saw Dee was sucking Dennis' cock hard again. Now Jake was pinching and twisting my sensitive nipples giving me a strange mixture of pain and exceptional pleasure!! Just as I was approaching my peak Jake starting pounding so hard that I began to get frightened.
Suddenly he thrust his dick to the very bottom of my pussy as it was slightly cramping me when I felt his cockhead swell like a ballon and felt the splattering of Jake's hot thick cum deep inside of my pussy. As I looked over at Dennis I saw his busily ramming his newly hardened dick into Dee's pussy "doggie" style all the while looking at Jake and I with this far away look in his eyes. I heard Dennis start to moan and Dee say to him,"come on baby give me your big load of cum..flood my pussy. Yes thats it"....Watching Dennis put his cum in Dee's pussy pushed me over the edge,as I experienced a very intense climax and as a result some of Jake's cum started to leak out of my pussy. Dennis and I said our goodbyes to Jake and Dee and we showered and dressed and left by cab back to the hotel. As we rode along I asked the driver to take us through Central Park, where I proceeded give Dennis one of his best blowjobs ever while the cabbie watched in his rearview mirror.
Bonnie and Dennis,
New Jersey

COUPLES ... AFTER DARK FUN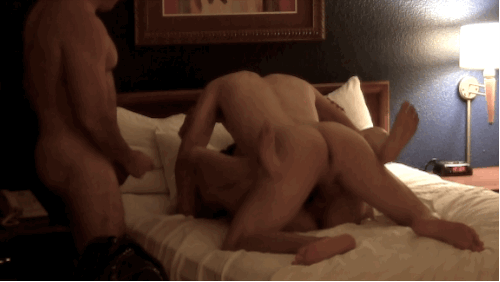 FOLLOW THE GAMES ...

Every evening laptops get turned on and the consumption of cuckold videos begins. Ravenous wives taken, cuckold husbands watching and stroking ...





© 2004 Cuckold Page