Wife's First Black Cock Story&nbsp&nbsp&nbsp&nbsp&nbsp&nbsp

BY: student2curious
Recently, my wife and I started fucking other people. It all started when she confessed to fucking one of my best friends behind my back about 10 or more times. Her confessions included telling me that she also seduced my brohter into fucking her too. By no means was I pissed off at her, well, maybe for a day or so, but afterwards the thought of her fucking other guys turned me on and got my dick hard. As we would fuck she told me the stories of all the times she would fuck my friend when I wasn't home. How she would suck his 8" cock and how he would fuck her until he cam in her pussy each and every time. So, instead of doing things behind each others back, we agreed to have an open marriage. She could fuck whomever she wanted, and I could fuck whomever I wanted. As long as we shared the experience with details, all would be fine and dandy. Up to date, my wife has fucked around 6 different guys. Each time she would bring her pussy home soaked with another man's cum so I could suck that cum out of her cunt. I am the type of husband that loves sloppy seconds and enjoys the taste of another man's cum from within my wifes pussy. After I get satisfied with sucking her cum filled pussy, I fuck her until I mix my juices with theirs. Man, it is such a turn on knowing that my wife has just been fucked by another guy, whose cum is now dripping from her pussy, just so I can lick and suck her cunt clean. I LOVE SLOPPY SECONDS. The taste of another man's cum mixed with my wifes pussy juice is so awesome that it makes my fucking her all the more pleasurable.
Up until a few weeks ago, my wife had never fucked a black guy before. This was her first. I was at work when she called and told me that "A" was coming over to get their grove on. He showed up around 10 p.m. or so and didn't leave until an hour and a half or two hours later. I called an hour after he arrived to see how things were going and my wife gave me a few details. She said that his dick measured 9 1/2 inches long and was so thick that she couldn't get her hand around it, not even her fingers were close to touching. In just that short time that he had been there at out house, "A" had already fucked her seven times, cumming in her pussy every time. My dick was hard and leaking pre cum just from hearing my wifes first encounter with a black man. A big, thick dick that is able to cum and keep going is what my wife needed to satisfy the nymphomaniac within her. She is the type of woman that is always horney, ready and willing to fuck at the drop of a hat. Unlike her black partner, I am only 6/ 7" long and not so thick, only able to fuck once until I cum then I have to wait a few minutes if not hours before I am able to go a second round. She has the sex drive that demands to be fucked until she is satisfied, and our black friend was doing just that. He had already fucked her seven times and was still able to fuck her some more afterwards. I believe he fucked her twice more after my wife and I hung up the phone. I told her to send him on his way home already, I was going to be home for lunch. When I got home twenty minutes after we hung up, we talked a little about her fuck session with "A" and how he pounded her pussy to satisfaction. My dick was harder than it had ever been as I laid her down on the bed to take a look at her pussy. It was gaped open slightly from their last fuck and I could see his cum within her starting to seep out and run down her cunt lips. I took the opportunity to first finger fuck her a little while I began sucking on her cunt lips licking off all the cum that was running out of her pussy. My dick was aching that it was so hard and I couldn't hold off any longer. I withdrew my fingers from her pussy licking them free of his cum and stood up so could shove my dick to the hilt insider her slick, cum drenched pussy. I began pounding her furiously as I kissed her lips so she could have a little taste of "A's" cum. As I entered her, I could actually feel all the cum that was shot in her pussy and this excited me all the more. "A" loosened her up pretty well but she was still felling the pounding that I was giving her since I was so damn horney and didn't let up until I shot my cum deep inside her cunt mixing it with her black partners. I had to return to work so I washed up the best I could and left her there gasping for air with both mine and her black dick's cum flowing out of her cunt. I kissed her goodbye and said, "See you in the morning my little nympho!" This was the first time my wife, and myself for that matter, ever had the taste of black dick. And I can say wtih all truthfulness that we both enjoyed the experience. Her, the nine poundings that that black dick gave her, and me, the taste of his cum afterwards.
Let me also share with you the second time that "A" came to our house and fucked my wife to satisfaciton while I watched from the door way. He called about 1:30 in the afternoon asking my wife if it was okay for him to come over so they could fuck. She looked at me and I gave my approval for him to come over. She hung up and I told her that I would wait in one of our childrens rooms as they were in our room fucking themselves to delight. He showed up a few minutes later and they went straight for our bedroom as they began taking off their cloths. I waited a few minutes and I could hear my wife moaning from that big dick fucking her pussy to its fullest. I snuck out of our childs room to make my way to our room. I nudged the door open a little at a time so I could see my wife getting fucked by this black dick. They were so into what they were doing that they didn't even hear the door open. I stood there watching this black guy sliding his big, black 9 1/2" dick in and out of my wifes pussy making her moan every time he shoved it home. In an instant my dick was solid as a rock and straining to be released. As I watched them fucking, I took my dick out of my shorts and began stroking it as fast as I possibly could. It didn't take me long to reach an orgasm as I shot my cum in my open hand so I woudn't make a mess on the carpet. I ran back down the hallway to my kids room and began licking my cm from my hand then laid down for a few minutes as what I just witnessed ran through my mind over and over again. I could still hear my wife moaning for her black partner to fuck her and fuck her good, so I got up from the bed and went down the hallway to our room once again. The door was still open so I edged my way in and saw that the blankets were thrown back. So I proceeded to enter until I was directly behind her balck lover as he had her legs over his shoulders slamming his dick in and out of her soaked pussy. It was clear that he had already shot a load of cum inside her cunt since every stroke he gave her forced a little of his cum out of her pussy. I watched in amazement as I was close enough to see his black dick sliding in and out of my wifes pussy. It was the most exotic and erotic thing that I have ever seen. And knowing that that black dick was being shoved inside my wifes juicey pussy made my dick hard once again. So I stepped back a little towards the door and withdrew my dick once again from my shorts to start jacking off. I was so aroused that I cam in about ten strokes, again shooting my cum in my open hand. This time I stayed a while longer to watch this black guy take full advantage of my wifes sweet little pussy.


As I stood there watching, I could see that he was shoving his 9 1/2" dick as far in her cunt as he possibly could. With her legs now spread wide his dick was clearly visible as his butt muscles flexed from ramming his dick in and out as he took long strokes. He took advantage of those long out strokes only to slam his dick back in her cunt as far as it would go. Her moans of pleasure were cheering him on all the more as he continued taking those long strokes then slamming it back into her pussy with great force and power. "Fuck me, fuck me harder, " is all I heard my wife saying to him as he continued his onslaught. "Fuck that pussy, fuck me good, " she proceeded to moan. All this time, I was practically kneeling so I could watch this black stud fucking the moans out of my wife. The fast motions followed by his holding his dick far within my wifes pussy told me that he had just shot another load of cum inside her cunt. They rested for a minute then decided to switch positons, scaring me back out the door into my kids room again. I could hear some moving around in my bedroom followed by silence for a short second. I waited to see what was happening next, then I heard my wife moaing again from the pleasure he was giving her. I tried to sneak back in the room but was only able to watch from the doorway since he was now facing the closed half of the door. So I stayed still as he continued to fuck my wife through moan after moan of pleasure. I could tell though that he had her at the edge of the bed doggy style. Her legs were spread wide as he pounded her from the back holding on to her ass cheeks as he pounded her cunt from behind. Her moans were somewhat muffled as she had her face buried into the mattress. One of her favorite positions is doggy style. And I'm sure that with a dick as fat and as long as his, she was enjoying every thrust of his cock. They stayed in the doggy style position for quite some time as he forced his prick home with every thrust. He began to moan and pick up pace, so I knew that he was on the verge of cumming for the third time. By this time, my cock had rose for its third time since he's been there, so naturally I took my dick out and began stroking it. Sure enough, he slammed his cock in one last time, leaving it as far in her pussy as he could get it, all the while shooting his load of cum deep within that juicy pussy. One final grunt and moan from him told me that he had finished his cum. He rested for a minute while I quickly fisted my cock to yet another orgasm, shooting my cum in my hand. I returned to my kids room and began licking some of the cum from my hand, then heard some restlessness going on. I peered out of the door to notice that "A" was leaving and my wife walking him out.
My wife came back inside and went straight to the room I was in and told me that "A" had left. We sat for a while as she told me that she loved fucking dick; whether white, black, or hispanic. She also told me that "A" wanted to go a fourth round but that she must have broken his dick since he couldn't get it hard anymore. Even after being fucked three times, she told me that she was still horney. So we went to the room where I laid her on her back and went down to her pussy so I could see the sloppy seconds left behind by her black lover. His cum was still visible from her gapping pussy, so I proceeded to lick and suck on her cunt until I tasted his cum on the tip of my tongue. I kept licking and sucking her cunt until I got a good amount of his cum in my mouth so I could swallow the aftermath of another man's sperm. I then rose up to slam my dick to the balls in my wife's pussy all the while telling her that it was erotic and exciting to watch her getting fucked by another guy. I kept fucking and fucking but was unable to cum since I had just jacked off three times watching her take it from a black dick. Her pussy felt awesome, being able to feel how he opened her pussy up made my dick feel right at home within a cunt that was full of cum and juices. I JUST LOVE SLOPPY SECONDS. Even after we fucked, she was still as horney as ever. And my wife will continue to fuck other guys just as long as she brings their cum home for me to suck out of her cunt. Whether black, white, or hispanic, I want to taste the cum of antoher man dripping out of my wifes freshly fucked pussy.
By: student2curious
COUPLES ... AFTER DARK FUN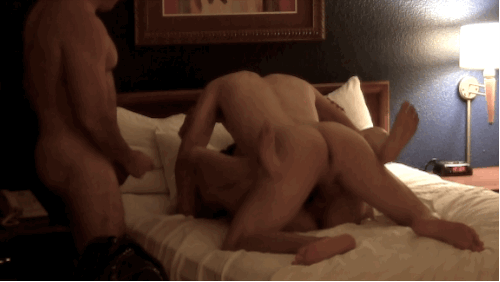 FOLLOW THE GAMES ...

Every evening laptops get turned on and the consumption of cuckold videos begins. Ravenous wives taken, cuckold husbands watching and stroking ...





© 2004 Cuckold Page