Never Thought it Would Happen.... then BOOM! &nbsp&nbsp&nbsp&nbsp&nbsp&nbsp

BY: jets69
My wife Jane and I were visiting a male friend, Mark,for the weekend last Labor Day. Mark lives several hundred miles away so we don't see him enough. Mark and I had always discussed a threesome with the two of us and Jane but we'd never acted upon it and I, quite frankly, was chicken to even bring up the topic with Jane.
Late on the Saturday evening, Mark and I were up drinking and watching his limitless supply of pirated porn on his satellite system when Jane, who we thought had already gone to bed, walked in on us. Rather than panic and try to cover up the fact that we were porn-surfing, Mark and I just said hi and went back to watching the big screen. Jane sat down next to me and commented jokingly on us being a couple of pervs and how pathetic, two grown men watching pornography together. Mark suggested Jane and I do something about it to make it less pathetic. Jane said she needed a drink first then got up, went to the bar and playfully tousled Mark's hair as she walked by him.
For another hour, we sat together watching everything from amateur porn to dp's to orgies, surfing back and forth so that there was always plenty of action. The atmosphere was surprisingly laid back and we talked easily about all sorts of things, especially sex. Inside, I wasn't so relaxed. I wanted to make a move but I felt like a teenager on a first date...with my own wife!
Mark then commented suggestively that Jane and I were free to "do what we like" and he was just going to sit up and watch TV. At that point, Jane and I looked at each other, shrugged and started to make out on Mark's couch. Within minutes, I had Jane's tight jeans off and was nuzzling her pussy through her sheer thong. I pushed her panties aside and eagerly began licking at her juicy clit while I stuck two fingers deep inside her and played with her tits with my other hand. I kept looking over at Mark and, at first, he was only stealing glances at us out of the corner of his eye. He was surprisingly quiet and reserved at first but eventually he was watching us eagerly and I could see his erect cock pushing at the front of his shorts.


Apparently, Jane could see his hard cock also because shortly she whispered in my ear that we should get Mark involved. She got off the couch and crawled slowly and suggestively over to where Mark was sitting. Man, she looked incredibly sexy down on all fours like she was a cat stalking her prey. She looked up at him and, without a word, unfastened his shorts, pried his dick out and started to lick it all up and down the shaft. I watched for awhile and appreciated my talented wife's technique - giving head is her greatest sexual talent. After awhile, I couldn't stand it anymore so I went over and started to fondle Jane's tits from behind her. She began to moan softly but otherwise, was very intent on giving Mark head. I then started to lick Jane's pussy and asshole while she continued deep-throating our friend.
I couldn't contain myself for long so I slipped my cock deep into Jane's pussy and pounded her harder than I ever had. I don't think I've ever felt her so wet; her pussy was literally dripping. I was so worked up that I couldn't last long but I didn't really care. After I came, Mark began to get up. Jane started to push him back down and told him she wanted him to finish. He declined and said, "Maybe later."
Mark disappeared for awhile (he later told me he went to smoke a joint and jerk off, I don't know why because he had a beautiful woman giving him head and wanting him to cum for her), anyhow after a few minutes Jane and I got back on the couch and started a slow, gentle 69. Suddenly I realized Mark was standing next to us, taking pictures with our own digital camera (the first picture he took is attached below). This really turned us on and I started to finger Jane's ass while tonguing her pussy relentlessly. Jane then almost begged Mark to stick his dick in her mouth and we stayed in that threeway position for several minutes before moving onto the floor.
Once again I found myself fucking Jane doggy-style while she sucked and licked Mark's cock and balls. It was an incredible turn-on, watching her do that to another man and seeing how much he was enjoying it. While fucking her, I kept sticking my thumb in Jane's ass, each time eliciting a spasm of pleasure and a high-pitched, throaty gasp while she continued to give Mark head. At one point, I watched Jane delicately lick a clear drop of pre-cum from the tip of Mark's cock and I just couldn't believe how sexually charged we all were.
Without pausing, I managed to grab our camera just as Mark came all over Jane's beautiful breasts. I then turned Jane over on her back, pushed her legs up over her shoulders and fucked her deep and hard until I pulled out and added my own load to Mark's. Mark then got us a towel to clean up after which we again had a few drinks and listened to some tunes. After Mark went to bed, Jane and I fucked again on his den floor like a couple of wild animals.
The next night was more of the same. Mark and Jane never did fuck that weekend (that's for another time) but Jane and I managed to entertain Mark in several interesting ways: on his couch, on his floor, on his bar stool, on his pool table...you get the picture.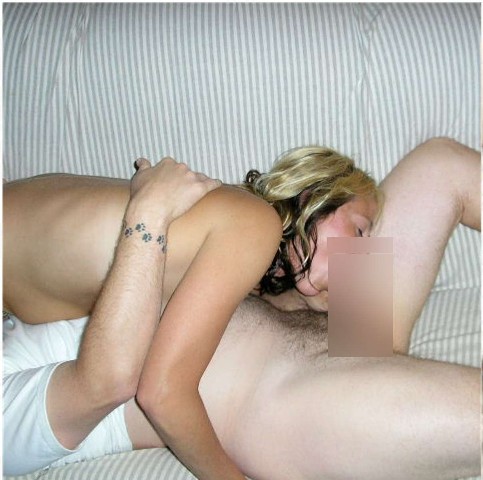 jets69
WIVES POST THEIR PERSONAL ADS ... COUPLES FOR MEN
© 2004 Cuckold Page