Cable Guy &nbsp&nbsp&nbsp&nbsp&nbsp&nbsp

BY: Cheryl
Our local cable service has been out on and off for the past couple of weeks and we have had several service calls all of which only helped for a short while. The last service man was Kevin, a tall well-built man of about 35 with a load of tools,(only some of which were on his tool belt). I about creamed in my pants the last time he was here and hoped that the next call he would respond again.
Last night the cable went out again and this morning I was waiting for the service man when the bell rang and there was Kevin ! I secretly hoped that I could find a way to seduce him when I looked over his shoulder and he had Brian along with him. When I asked why it took two men to handle our little problem, Kevin replied," you have had so much trouble lately that our boss wanted to be sure you got the best service."
I led them into the den where the TV was and asked if they wanted a cup of coffee or something stronger while they worked. Both of them said that they would like a beer, but weren't allowed to drink on the job, so I gave them a couple of non-alcoholic beers from the fridge and told them to enjoy while I had a bloody mary for myself.
I noticed that Kevin kept watching me more than the TV while Brian was around the back jiggling the wires and out of sight. I decided to tease him a little by sliding my hands up and down my thighs and slipping the ends of my index fingers under my panty legs which were visible as I sat with my legs spread wide apart. Kevin had an obvious bulge in his trousers and asked Brian to go out to the truck and bring in some testing equipment which they would need.
While Brian was out of the house Kevin said, " I remember you Cheryl from my last service call and hoped I could come back again when your husband wasn't home." "Well, don't worry big boy as Jerry is out of town for a couple of days and my pussy is in need of some good servicing now." I said.
Kevin pulled his dick out of his pants and while it wasn't a monster it was about 8" long and still growing when we heard the front door open. "Oh, we better wait as Brian is coming back already" Kevin said. "Well the more the merrier is fine with me, although Brian is a little chubby and probably has a small dick" I replied. Kevin said, " I can't speak for that,but he is a bachelor and as far as I know he had no girlfriend as he told me that today." I said, "let's surprise him with a little show and see how he reacts." It got awfully quiet then and I looked up to see Brian in the kitchen watching me with my panties spread and Kevin's dick swinging free. Brian cleared his throat and asked if they would need anything else in the truck and Kevin said no we had all the equipment we needed now with a smile on his face.
With that Kevin started to undress me as I was working on his belt buckle and zipper. In no time at all the two of us were naked and my nipples were standing at attention. Kevin began to lick and suck on first one and then the other until he was now fully erect and my pussy was on fire. All this time Brian was standing in the kitchen with his dick out and stroking himself madly.


"Come join us", I said and he was beside us in a flash. Now Kevin laid me down on the couch and started to lick my clitoris until I was so juicy that his face looked shiny and wet. He then rose up over me and began to spread my labia with his fingers and to put first one, then two and then three fingers inside me while I was begging for his dick. Kevin then slowly mounted me and slid his 8+ inches in all the way on his first downstroke. Oh, it felt so good that I raised my hips to let him get in as far as possible and as he lifted my legs over his shoulders and began to thrust more rapidly I saw Brian had his dick just inches from my mouth, and was silently begging me to suck him off. Being the good sport that I am I took Brian's dick and licked around the bulbous head until he was ready to shoot. I opened my mouth wide and took as much of it inside until it was apparent that Brian was even bigger than Kevin, not in length but in girth. I couldn't get all of it in my mouth so I gave up and started to work him with my left hand all the time promising that he could be next.
Kevin seemed even more turned on my this and began to fuck me harder and faster until the couch was even sliding on the floor. Brian was now sitting on the floor watching and stroking himself to stay hard, as if that were a problem.
As Kevin filled me with his hot load and collapsed on my chest to catch his breath, Brian tapped him on the shoulder and said, "my turn now". As I mentioned, Brian was chubby and with his shorter dick and his beer belly he couldn't get enough penetration in the missionary position, so I got him to lie on his back and I slowly lowered my pussy on to his erect penis until the thick tool was firmly in place. Then I began to rock back and forth and in a few minutes Brian too had his load released.
My TV still wasn't fixed and the two men were nearly exhausted so I got up, threw on a robe while they dressed and said I would fix them a snack as soon as the set was fixed. With that I went and took a shower and a quick douche and watched while they finished their work. When they were done I asked if they were ready for their snack and they said,"of course we are." Okay, then come get it and I slid out of my robe, spread my legs and said, "let's see how you guys can eat pussy now."
Brian claimed he had never done it before, but would like to watch, while Kevin did the honors, and did he ever !! I must have cum another two times or more from Kevin's tongue until Brian's cell phone rang and it was their supervisor calling them to their next job and they had to leave.
I felt badly that this was the first time I had cheated on Jerry by not letting him watch, but I was so horny I couldn't help it. When Jerry gets home I'll tell him all the details and he'll get off on it with me.
Hope you enjoy this true story, and if so let me know.
Cheryl & Jerry
Tampa, Florida
COUPLES ... AFTER DARK FUN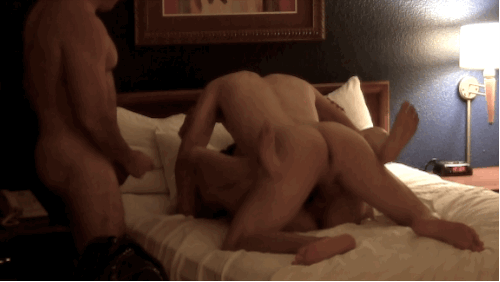 FOLLOW THE GAMES ...

Every evening laptops get turned on and the consumption of cuckold videos begins. Ravenous wives taken, cuckold husbands watching and stroking ...





© 2004 Cuckold Page