My Hubby's Best Friend &nbsp&nbsp&nbsp&nbsp&nbsp&nbsp

BY: Cheryl
Haven't posted anything in a long time and it has been forever since I've seen Bob, so here goes.
As a reminder for those of you who haven't read the experiences with Bob in earlier stories, let me tell you a little bit about us. First, I am in my early middle life and am married to Jerry. I am 5'2" and weigh 120 pounds with dark hair and brown eyes. My measurements are 36-25-37 and am a C cup. I was married before Jerry, but never had a swing experience until Jerry and I married. Bob is a good friend of Jerry's and comes to Tampa once or twice a year on business, usually staying at our house to save on expenses, or that is his excuse.
Bob is 5'10" with graying hair and blue eyes. He weighs about 180 pounds but the amazing thing about him is his 10" dick which doesn't get enough exercise at home so after the first time we fucked with Jerry watching and approving we have been screwing like minks every chance we get. Earlier stories in the archives can fill you in on more details.
Anyway, I am sitting here at the computer this morning and reliving the events of this past week. Bob has left for the airport and my pussy is still dripping and wanting more. I'll have to wait for Jerry to get back and give him some sloppy seconds.
Bob arrived about noon on Tuesday and after lunch had a few business calls to make while I swam, bathed, and made dinner for the three of us. When Bob was finished for the day we all had a few drinks, and swam a few laps in the pool, (nude of course). Then when we had dried off and gone inside as it is still a little cool here in Florida in the evenings to sit around nude, we began to watch a porno tape that Bob had brought with him and as we were all sitting naked I was in the middle and had Bob on my right and Jerry on my left. Normally, I don't particularly like to watch porno, but this was one with an actual plot. Since I like movies with a plot I was engrossed in the action when I felt soft lips encircling my right nipple and ooh how good that felt. Then more soft lips on my left nipple and realized that Bob was sucking on my right tit and Jerry on my left. I instinctively reached out and stroked both cocks as they were poking my legs and I knew they were both hot. Bob reached over and lifted my right leg over his so he could tease my clit with his fingers and Jerry did the same until I was spread wide and had two men trying to get their fingers into my pussy at the same time. It had been a very long time since I had two men working on me simultaneously so I relaxed and went with the flow.


Soon Bob had two fingers and then three in my vagina and was working them in and out so that I was ready to orgasm on his hand, but even though I am multi-orgasmic I wanted that monster dick in my pussy instead. Jerry is a good sport so he and Bob lifted me and laid me on the soft carpet and Bob began to lick and suck on my labia while Jerry continued to suck on my breasts. He has learned if he does it just the right way he can get both nipples in his mouth at the same time, something that I love. However with Bob between my legs he couldn't get me in position so I decided to give him a super blow job instead. As I was licking and sucking Jerry's 8" dick I could feel Bob part my labia and stick his tongue deep into my vagina. Well, I love this, but I still wanted a dick in me so I told both of them to stop while I could get more comfortable. I then got on my hands and knees and took Jerry in my mouth while Bob slowly slipped his monster dick in my pussy doggie style an inch or two at a time since I didn't have any KY jelly on and he is really big to handle without it.
With his hands on my hips Bob was sinking further into my pussy with each stroke until I could feel his balls slapping my ass and I was rocking with him in rhythm until I couldn't keep Jerry's dick in my mouth and poor Jerry had to wait and watch while I got royally fucked.
Bob had gone without for so long that he couldn't hold back and he was coming loads deep in my pussy in just a couple of minutes. When I felt him start to spurt, my pussy contracted and I had the first of many orgasms that night. Then Bob pulled out and Jerry took over laying me on my back while he fucked me missionary fashion. Jerry and I have a great sex life and even though I had been stretched pretty good I had enough control of my kegel muscles to milk Jerry too in another few minutes.
Lying there with cum running out of my pussy and luxuoriating over the great fucks I just had, Jerry had the presence of mind to get a towel to put under me to keep the cum stains off our new carpet. The TV was running and nobody was watching it, so in a few minutes we turned it off and retired to the bedroom for some more sex, (when they could get it up again) and then a good night's sleep.
We all slept together in our king sized bed and sometime around 4 am I was awakened by somebody licking my pussy again. I was so sleepy that I just spread my legs and enjoyed the moment. Fortunately the licking went on and on until I raised up on my arms to see who was doing the licking and saw Bob down there drinking pussy juice like he was never going to get enough. I pulled him up and he rewarded me with his boner again going in a little faster than before. I was still stretched, and he had licked me so good that I was juicy and ready for him. Soon he had all 10" buried deep in my pussy and we were fucking again like it had been a month instead of just a few hours. Naturally, this woke Jerry and he complained, " can't you guys wait until morning for gosh sakes. I have to work tomorrow even if you don't."
Bob felt bad about that and lifted me in his arms still impaled on his dick and rolled to the edge of the bed, got up and with me riding his dick with my legs around his hips he walked me to the guest bedroom where we fucked until the sun came up.
That was Tuesday of this week and Bob fucked me everyday until this morning Saturday when he had to leave for the airport to return to Atlanta. I miss him terribly when he is gone, but Jerry takes good care of me and Bob is an occasional dessert for the pussy. If I can get up the energy I think I'll go take a douche and let Jerry taste my pussy as soon as he gets back from the airport. Then I will have had a really good week.
Cheryl & Jerry
Tampa, Florida
COUPLES ... AFTER DARK FUN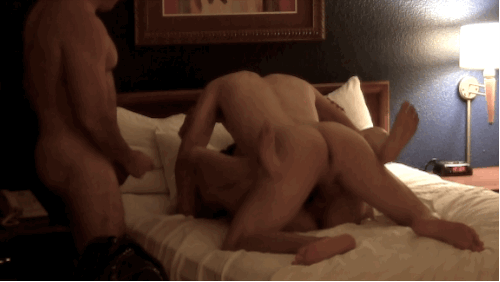 FOLLOW THE GAMES ...

Every evening laptops get turned on and the consumption of cuckold videos begins. Ravenous wives taken, cuckold husbands watching and stroking ...





© 2004 Cuckold Page