A Harmless Trick on Cheryl &nbsp&nbsp&nbsp&nbsp&nbsp&nbsp

BY: Jerry Owen
I just had to do this, the devil made me do it. This morning when Cheryl and I were fooling around in bed I asked her to go braless when she went to the store this morning as I wanted some of the men in the store to see her hard nipples when they stand up and show through her sweater. I knew she would do it as she is always up for a dare.
She left about 9 this morning and I immediately called Mike, a friend of mine who doesn't know Cheryl and she doesn't know him. Let's just say that we are friends outside of normal circumstances. Well, I told Mike that since he had the day off today, and I knew it, I would like him to get his butt to the Albertsons's store in our neighborhood and look for a petite woman in a light blue sweater with a set of 36 C tits poking out of her sweater and make a move on her.
Mike, who has been divorced for about 6 months and almost as long without pussy at least that's what he tells me, was game for the challenge. He asked what he should do, and I told him to just be his charming self and see if he could pick up the lady and then do whatever came up.
Cheryl saw Mike, liked his looks and was a little surprised when he began talking to her in the frozen food aisle which is so cold her tits were almost sticking out the sweater through the loose knit and he couldn't take his eyes off of them. As they talked it became apparent to Cheryl that he was trying to pick her up so she decided he was a good looking guy about 6' and 180 pounds with a lot of hair and a good build so she'd have a little fun with him.
Now since neither of them knew each other and neither of them knew that I had set them up, they decided to go for coffee at the Starbucks next door and get to know each other a bit. While they were talking Cheryl mentioned that she and her husband were swingers and asked Mike if he would like to swing with them some time. Mike jumped at the invitation, and asked, " how about this morning?" Cheryl said, "my husband is at work, and we don't swing without him there, but you are so cute maybe we could make an exception today."
With that, they got in their cars and Mike followed Cheryl home. Meanwhile I was all set up with the videocam and hiding in the bedroom closet to watch what I was sure was going to be a fun quickie and maybe even a chance for me to join in. Now normally, Cheryl wouldn't do this kind of thing, at least as far as I know, but she was hot that morning as I had her primed, but hadn't let her have an orgasm and I knew she was ready.
I heard them come in and Cheryl was putting the groceries away, and darn it I couldn't see them in the kitchen, I could only listen. Mike was trying his best to get Cheryl's sweater off and she was telling him to slow down as they could go into the bedroom for a quickie in a minute. Now I had to be sure and be quiet as I double checked the videocam and went back into the closet, making sure the door was just a little open so I could see the bed from that spot.
Almost immediately, Mike and Cheryl came in together and began kissing while Mike was pulling Cheryl's sweater off over her head and she was unzipping his fly. At about 30 years of age and no sex for 6 months, Mike was more than ready as his 9" dick sprang free and Cheryl dropped to her knees to suck on it to prime him. Mike begged her to stop as he didn't want to cum too soon and she had him almost over the edge already.
They then jumped in bed naked and Mike was between her legs and eating her pussy so fast that Cheryl had to pull him up by his ears and tell him to slow down a little. Mike than went back to sucking and licking and then got into a 69 position so that they could both enjoy each other together when I knocked over a shoe box in the dark and they both jumped out of bed and Mike looked terrified.
As I came out of the closet I apologized to both of them for the little trick, but thought it would be a good way for the three of us to get to know each other. Cheryl was furious as she had been "caught" in what would be cheating and Mike wasn't too happy that his friend had "set him up", however after a few minutes of talking I convinced Mike that Cheryl and I did this all the time and that I just wanted to see what would happen.


As Cheryl is always a good sport about sex, she just laid back down and invited Mike to get back to work, but he was so embarassed he couldn't regain his erection and I had to take his place. While Cheryl and I fucked and she was getting her much needed orgasm we both noticed that Mike had his dick in his hand and was slowly stroking himself back to a full erection. Now that needed attention, so I pulled out and invited Mike back between Cheryl's legs and this time he had lost his inhibitions and was rubbing the knob of his dick back and forth across Cheryl's labia when she pulled him in saying, " Let's get that big dick busy in here and give me another orgasm while Jerry watches this time." She had a big smile on her face, and I knew that she wasn't angry and that I was getting it all on tape for our fun review later.
Mike didn't take long to cum and Cheryl's orgasm happened about the same time. I went and got them a towel to clean up and then the three of us sat on the bed and talked. Mike was overjoyed at his good fortune, and Cheryl was happy to see that a man like Mike really liked her for herself and not just her tits and pussy.
As the morning went on the three of us had some more fun as Cheryl sucked me off while Mike was plowing her from behind and the sounds of our sex fun could be heard even outside, or so it seemed.
It is now late evening and Cheryl and I have watched the tape twice and she is ready to call Mike and have him come over again tomorrow when she is sure that I will be here to enjoy a threesome again. I can't wait !
Jerry and Cheryl
Saml31@hotmail.com
COUPLES ... AFTER DARK FUN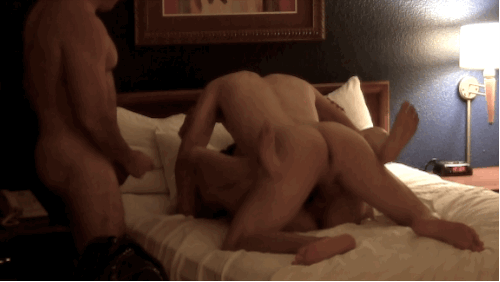 FOLLOW THE GAMES ...

Every evening laptops get turned on and the consumption of cuckold videos begins. Ravenous wives taken, cuckold husbands watching and stroking ...





© 2004 Cuckold Page