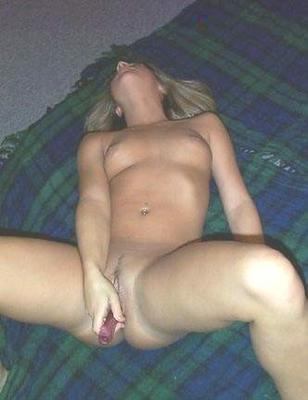 He Made My Wife Cum:
She won't do it again, but once when an old college buddy stayed with us on a weekend, and we'd been out bar hopping and drinking a little too much, I started playing with her tits in front of him. At first she pushed my hands away and, though I knew I was making her horny, she pretended to be embarrassed. With a few more attempts, she closed her eyes and let me do whatever I wanted as our friend, in the chair across from us and a little buzzed from the drinking, watched with widening eyes.
The wife got so hot she started breathing heavy and squirming on the couch. I peeled off her blouse and unhooked her bra with her nice tits spilling out in full view of my friend. I put my hand up her skirt and rubbed her pussy. Beside herself, she began to moan. I whispered in her ear she needed to feel my friend's cock in pussy. She gasped and I motioned my friend over. I put his hands on her tits and he began stroking them while my wife kept her eyes closed and pushed her pussy harder and harder against my stroking hand.
Minutes later, my friend and I stripped off the rest of her clothes and my friend went down on her. Surprised, her eyes popped open and she put her hands on his head and weakly said no. My friend kept up his pussy-licking expertise and cupped her ass cheeks in his hands. Out of her mnd with lust, my wife pulled his head against her pussy and and began cumming and moaning loudly over and over, her body shaking.
I just sat back and watched her cum over and over and I loved listening to her loud moans. When she settled down, my friend mounted her with no resistance and she was fucking him as hard as he was fucking her.
She came again as loud as before with her legs wrapped around my friend's hips. When he finished, I got on top of her and fucked her to another orgasm. Before the night was over she sucked both of us off and I loved it. Then she lay down and took out her favorite vibrator right in front of us and started to fuck herself with it!! I got out the cam asap as I couldn't miss this. She was an animal that night!
Wish she'd do it again, but the next day she regretted acting like, in her words, a slut, and won't do it again, though during sex if I start talking about it, she's gets tremendously horny and gives me an extra good blow job or fuck.
WIVES POST THEIR PERSONAL ADS ... COUPLES FOR MEN
© 2004 Cuckold Page