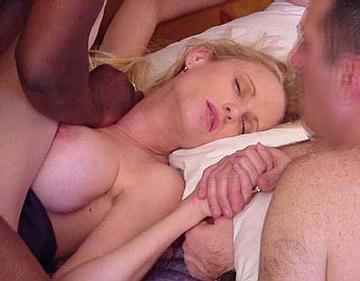 Cheating Wife Picture Actual Post:

From the forum - I tried to get my wife to sleep with another man, then come home and tell me what happened while I cleaned her pussy for her. She constantly refused, but I finally talked her in to stretching her limits a little with some light bondage. I would tie her up while eating her. Then progressed to blindfolding as well so she would not know what I was going to do next. One day while she was out with her girlfriends, I had a black coworker who was rumored to have a huge cock come by the house. I told him I wanted him to fuck my wife, but he could not talk or make any noise at all. When she pulled in to the driveway, he hid in the spare bedroom. She came in to the house and right away saw that look in my eyes. I began kissing and carressing her while removing her clothes. I then got out the blindfold and bindings and tied her over the chair face down. My coworker then entered the room while I was eating her sweet pussy and getting it lubed up for him. I backed away, and he slowly approached her and began to rub his 9" dick up and down her slit to get it good and moist.





I almost exploded. My dick was as hard as it has ever been, watching that huge black cock running up and down her slit. He slowly pushed the head into her, which caused her to gasp. He then began to work it in and out, a little more with each stroke. When he had it about half way in, she stopped panting long enough to ask me what I was using. He continued to stroke and slowly but surely got all 9" inside her stretched pussy. She was panting and moaning like I had never heard her before, and ask me again what I was using on her. That is when she exploded for the first time. He continued to pump his huge cock in to her when I went around by her head and whispered in her ear "that's not me fucking you silly". She lost it then, and began to convulse over and over. He must have fucked her for 30 minutes before exploding inside her lucious cunt. He left his shrinking cock inside her for a few minutes before pulling out with a loud slurping sound. He went in to the other room and dressed, and I walked him outside. When I went back in my dick about burst when I saw her bent over with huge amounts of his cum running down her legs. I removed her blindfold and bindings. She collapsed on the floor with the most satisfied look I have ever seen on her face. She first thanked me for the best sex she has ever had, then asked me who the hell that was. It has been 3 months since that day, and she still looks at every guy she meets and wonders if he is the one with the huge cock.

Her Picture above. - Lenny





COUPLES ... AFTER DARK FUN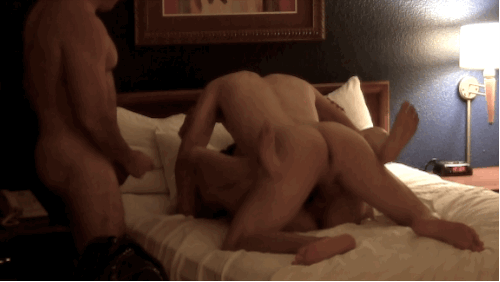 FOLLOW THE GAMES ...

Every evening laptops get turned on and the consumption of cuckold videos begins. Ravenous wives taken, cuckold husbands watching and stroking ...





© 2004 Cuckold Page